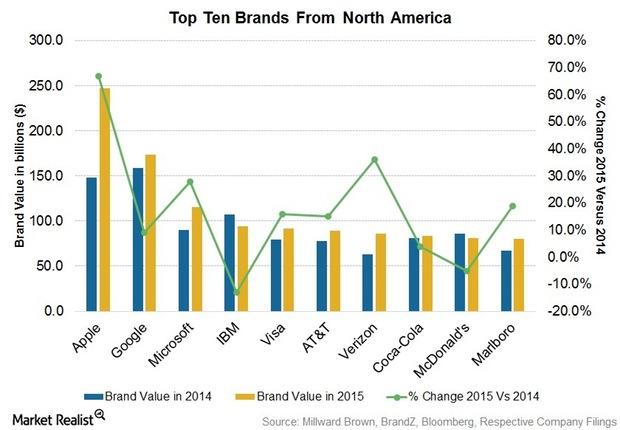 Marlboro: The Star in Philip Morris's Portfolio of Brands
By Penny Morgan

Mar. 28 2016, Updated 1:07 a.m. ET
Marlboro's shipment volume
Philip Morris International (PM), a US-based cigarette and tobacco company, caters to both local and international markets with its mid-market and premium brands. They include Marlboro, Merit, Parliament, and Virginia Slims. Generally recognized as the world's best-selling international cigarette, Marlboro accounted for 33.7% of the company's total shipment volume in 2015.
Article continues below advertisement
Increased market share
In 4Q15, Marlboro increased its international market share, excluding China and the United States, by 0.2 points to 9.6%. This was expected after the rollout of its new Marlboro 2.0 Architecture. The company revamped Marlboro in more than 100 markets.
The positive share performance was also primarily due to reduced gaps since the start of the year following price increases for low-priced brands. This led to adult smokers upgrading to Marlboro and Fortune. The company improved a number of qualitative assessments in order to increase or translate to a strong market share by the rollout of Marlboro Red and Marlboro Full Flavor Variant.
The Marlboro share increased by 0.3 points to 19.1% in the European Union, driven by France and Spain in 4Q15. Philip Morris's cigarette shipment volume increased by 1.8% in France, driven by Marlboro. It benefited from a round retail (XRT) price point of 7 euros per pack and the launch of Marlboro 25s.
Other brands
Supporting Marlboro are brands such as L&M and Chesterfield, which are mid-priced brands. The cigarette shipment volume of L&M increased 3.3 points to 13.0% in 4Q15 in North Africa. However, Parliament, PM's premium-priced brand, dropped in market share in Russia and Korea. It fell behind British American Tobacco's (BTI) Lucky Strike and Imperial Tobacco Group's (ITYBY) Winston.
According to a Millward Brown report, Marlboro is ranked among the top ten brands in North America, with a brand value of $80.4 billion in 2015. By way of comparison, Apple (AAPL), Microsoft (MSFT), and Coca-Cola (KO) have brand values of $247 billion, $116 billion, and $83.8 billion, respectively.
PM makes up 0.7% of the iShares Russell 1000 ETF (IWB) as of March 22, 2016.