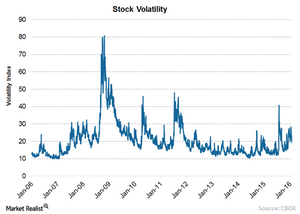 Why Markets Are Likely to Remain Volatile in the Near Term
By Russ Koesterich, CFA

Mar. 3 2016, Published 2:29 p.m. ET
If valuation is unlikely to put a floor under markets, there are two other scenarios that could help establish a bottom: signs of economic stabilization or a more aggressive, coordinated response from central banks. As I don't view either as imminent, markets are likely to remain volatile in the near term.
Article continues below advertisement
Market Realist – Market drivers are missing
After six years of quantitative easing that boosted global (SCZ) markets, volatility has dominated financial (IYF) markets over the past six months. Global economic weakness, slow corporate earnings growth, contradictory central bank policies, and geopolitical concerns contributed to uneasiness in the market. The higher volatility led by lower oil (IEO) prices and uncertainty surrounding growth in China (FXI) appear to be top concerns for the market.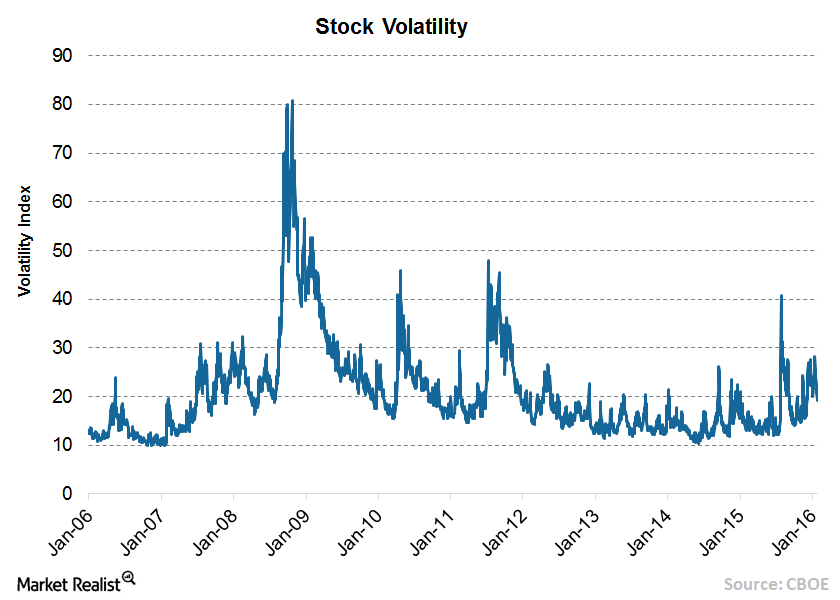 Central banks' divergent policies
After the Fed's withdrawal of quantitative easing, other central banks such as the Bank of England may follow suit to tighten the monetary policy. At the same time, other countries like Japan, China, and the Eurozone, are continuing with their accommodative policies to stimulate growth. This divergence in policy is one of the major factors contributing to the rising volatility in the market.
Global economic recovery not yet in sight
The recent challenges to the global economy have led to the significant fall in global growth. China's (MCHI) GDP growth declined to 6.9% in 2015, its weakest level in 25 years. The IMF warned that the global economy is vulnerable and could falter due to successive shocks such as the impact of China's slowing economy. The IMF revised the global growth figures downward by 0.2%–3.4% for 2016 and 3.6% for 2017. This indicates that we have yet to see much stabilization in the global economic data, which could lead to volatile markets.