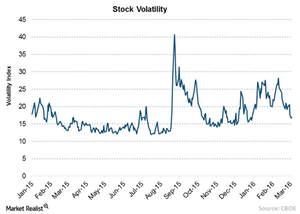 Why Has Market Volatility Increased Sharply in Recent Months?
By BlackRock

Updated
With today's market volatility, you'll want to be more nimble with your investment mix. We explore how you can use "passive" ETFs in an active way.
If the world of investing feels like it's become more confusing lately, you're not imagining things. Market swings, also known as volatility, have indeed been very dramatic. Volatility has increased approximately 43% from a year ago, based upon the Volatility Index (VIX) as of Feb. 25.
Article continues below advertisement
Market Realist – Global equity markets have been on a roller coaster ride.
Global (ACWI) (IEFA) economic weakness, slow corporate earnings growth, divergent central bank policies, and geopolitical concerns led to the sharp rise in market volatility during the past year. Higher volatility led by lower oil (IEZ) prices and uncertainty surrounding growth in China appear to be the top concerns for the market.
Declining oil prices are often a sign that global economic growth is slowing down. In fact, on March 14, 2016, OPEC (Organization of the Petroleum Exporting Countries) lowered its expected demand for OPEC oil by 100,000 barrels per day. The selling frenzy was also due to the withdrawal of quantitative easing, which sucked up liquidity.
Divergent monetary policies
After the Fed's withdrawal of quantitative easing, the Bank of England is likely to follow suit and tighten as well. At the same time, Japan (EWJ), China, and the Eurozone (IEV) (EZU) are continuing their accommodative policies to stimulate growth. This divergence in policy is one of the major factors contributing to rising volatility in the market.
Global economic recovery remained tepid
Recent challenges to the global economy have led to the significant fall in global growth. China's GDP (gross domestic product) growth declined to 6.9% in 2015, its weakest level in 25 years. The IMF (International Monetary Fund) warned that the global economy is vulnerable and could falter due to successive shocks such as the impact of China's slowing economy. It also revised global growth figures downward by 0.2% to 3.4% for 2016 and 3.6% for 2017. This indicates that we are yet to see stabilization in global economic data, which could further lead to volatile markets.
In the rest of this series, we'll discuss how investors can best seek to reduce volatility and capture opportunities by following diversification and selectivity as a long-term strategy. We'll also analyze how ETFs are best used to stay actively invested in the Market and generate higher returns.