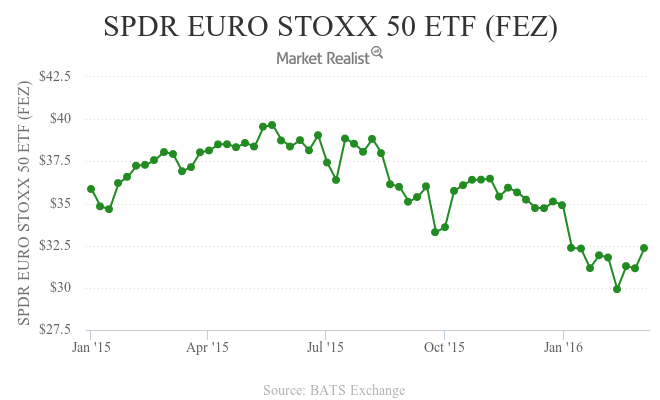 What Did the Market Want from Mario Draghi?
Can more stimulus drive the EU's growth?
QE (quantitative easing) is the monetary policy measure that most developed nations (EFA) are adopting to stimulate economic growth. In the past, QE was successful in the US (QQQ) (IVV). The financial system in the US was designed in such a manner that all of the doors are connected. This helped the US turn the stimulus into growth. Now, it became a question mark for the EU (European Union) and Japan (EWJ) (DXJ). Will more QE be able to recover the economy from deflationary situations and spur economic growth?
[marketrealist-chart id=1127890]
Article continues below advertisement
ECB's decision on March 10
On March 10, 2016, the ECB (European Central Bank) cut its deposit rate more into negative territory to -0.4% from -0.3%. It charged banks more to keep their money with the ECB. It was in line with the Market's expectations. However, it surprised the Market by cutting its other two interest rates. The refinancing rate was cut down by five basis points to 0%. The marginal lending rate was cut down to 0.25% from 0.3%. The marginal rate is the rate used by the banks to borrow from the ECB overnight. The ECB increased the monthly asset buying program to 80 billion euros from 60 billion euros. This was more that what the Market expected. It expected about 70 billion euros.
Higher than the Market's expectation
The Market was expecting the stimulus from the ECB to turn it into growth. The higher level provided by Mario Draghi, the ECB's president, indicated that the economy might be slowing at a faster pace than the expected level. There might be more downside risk for the economy. Draghi is doing more on the QE side because QE wasn't very effective in the past. All of the major indices fell on March 10 due to the speculation.