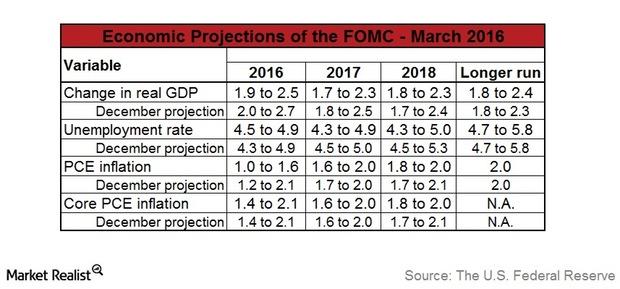 March Economic Projections Say PCE Inflation Will Fall Further
By David Ashworth

Mar. 18 2016, Published 12:35 p.m. ET
Summary of economic projections
The FOMC (Federal Open Market Committee) releases its SEP (Summary of Economic Projections) in four of the scheduled eight meetings in a year. In it, FOMC members present their projections on the following three variables:
economic growth
unemployment rate
PCE (personal consumption expenditures) inflation
SEP presents the following:
range of the projections – the lowest to highest figures projected for an indicator
central tendency of the projections – excludes the three highest and three lowest projections for variables
median value of the projections – began in September 2015
Let's look now at PCE inflation expectations.
Article continues below advertisement
PCE inflation
The range of FOMC participants' PCE inflation projections for 2016 was reduced from 1.2%–2.1% in December 2015 to 1.0%–1.6% in March 2016. The central tendency and median for PCE inflation for 2016 were also reduced. Specifically, the median, which was at 1.6% in December, came down sharply to 1.2% in March.
There may be some good news for crude oil exporters later in 2016 if OPEC (Organization of the Petroleum Exporting Countries) and Russia decide to cut production. For now, it's stuck since Iran has not agreed to the proposal.
Investors in certain mutual funds need to be careful about this development. These funds include ETFs that exclusively track crude oil prices (USO) or the energy sector (XLE). They also include the ClearBridge Aggressive Growth Fund – Class A (SHRAX) and the Fidelity Blue Chip Growth Fund (FBGRX), which have close to a fifth of their assets invested in the energy sector. A fall in crude oil prices pushed gasoline prices down and hurt marketers and retailers such as Marathon Petroleum (MPC), Valero Energy (VLO), and Hess (HES).
Article continues below advertisement
Policymakers were much more confident about PCE inflation heading toward its 2% target in the years following 2016. The central tendency for PCE inflation for 2017 and 2018 remained nearly unchanged in March from the December projections. The median was unchanged as well at 1.9% and 2% for 2017 and 2018, respectively.
Core PCE inflation
The range, central tendency, and median projections for core PCE inflation for 2016 to 2018 were nearly unchanged from those in September.
In the next part, we'll look at projections for the other two variables: economic growth and unemployment rate.