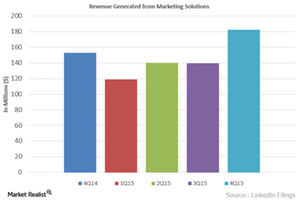 LinkedIn Streamlines the Process of Targeting Ads and Campaigns
By Parker Thomas

Mar. 11 2016, Published 6:25 p.m. ET
Sponsored Updates revenues grew by 85%
LinkedIn's (LNKD) Marketing Solutions segment provides a variety of advertising options to its marketers with products such as Sponsored InMail and Sponsored Updates. Sponsored Updates has been the fastest-growing product in comparison to the other suite of products under Marketing Solutions.
Moreover, it drives the majority of revenue generated from Marketing Solutions. For the recent quarter, Sponsored Updates' revenues grew by 85% year-over-year (or YoY). For the first time, it constitutes more than 50% of total revenues generated from Marketing Solutions.
Article continues below advertisement
Automated ad targeting
LinkedIn (LNKD) invests aggressively in Sponsored Updates, with the aim of incorporating additional functionalities and streamlining the process of targeting ads for the marketers. LinkedIn recently developed a new way to facilitate the way marketers target companies and generate sales. Marketers can import their lists of sales accounts to LinkedIn's data repository. The data can be cross-checked to ~8 million company pages on its web portal to find the appropriate target segment.
Russell Glass, LinkedIn's Head of Products, Marketing Solutions, noted that there are several advertising features available through Marketing Solutions. Marketers can utilize these features to execute the process manually with a limit of 100 companies. However, the new automated functionality can customize the Sponsored Updates or Sponsored InMail to broaden the target exposure.
Tech giants such as Facebook (FB), Google (GOOG), and Twitter (TWTR) utilize programmatic ads that target users on the basis of related pieces of information. In the case of LinkedIn, the sales data is more structured and defined, which could create better value for the marketers.
LinkedIn constitutes 0.37% of the Vanguard Extended Market ETF (VXF)