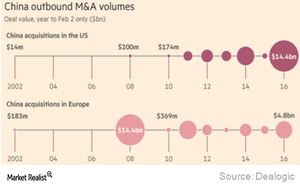 What Caused the Western Digital-Unisplendour Deal to Fall?
By Puja Tayal

Mar. 21 2016, Updated 9:06 a.m. ET
China fuels semiconductor consolidation
So far, we saw that the Western Digital (WDC) and SanDisk (SNDK) merger was opposed by a top Western Digital shareholder—Alken Asset Management—on February 22, 2016. A day after this opposition, China's Unisplendour backed out of the deal to acquire a 15% stake in Western Digital for ~$3.8 billion. This raised concerns among investors about whether the merger deal would come through.
In this part, we'll discuss why Unisplendour backed out of the deal. We'll also see how Western Digital reacted.
Article continues below advertisement
It's important to note that 2015 was a year of consolidation for the semiconductor industry. A key player that fueled this trend was China's (MCHI) state-backed Tsinghua Holdings. According to Thomson Reuters' data, $23 billion worth of offers were made by Chinese companies to acquire US corporations in 2015. This is almost double the amount in 2013.
The increased interest from China in US corporations brought increased scrutiny by US authorities due to national security concerns. Knowing the sensitivity of this deal, Western Digital added a clause in its merger agreement with SanDisk signed on October 21, 2015. Under the clause, Western Digital would revise the offer for SanDisk in the event that the Unisplendour deal doesn't take place.
Like all other Chinese takeover offers, even the Unisplendour offer came under scrutiny. The U.S. Committee on Foreign Investment stated its intentions to investigate the deal. US authorities rejected the Chinese takeover offers for Micron Technology (MU) and Fairchild Semiconductor (FCS).
Unisplendour withdrew from the Western Digital deal
The investigation discouraged Unisplendour from continuing with the offer. It would mean a delay in closing the deal and probably more transparency surrounding buyers. As a result, Unisplenour backed out of the deal. Western Digital made an alternate offer to SanDisk despite opposition from Alken.
Investors' reaction
The merger gained negative attention a few weeks before the shareholder meeting. Western Digital shares fell by 7.5% and SanDisk shares fell by 2% on February 23, 2016.
After shareholder approval on March 15, 2016, stocks of both companies fell in the after-hours trading session. Western Digital stocks fell by more than 5% and SanDisk stocks fell by 1%. However, the stocks rose slightly the next day as the merger synergies were laid out. Western Digital shares rose 1% to close at $46.13. SanDisk shares rose 0.22% to close at $76.22 on March 16, 2016.
In the next part of the series, we'll look at the merger synergies that led to a slight increase in the two companies' share prices.