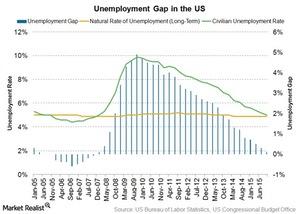 Labor Market Slack Impacts Prices and Wages
By Surbhi Jain

Dec. 4 2020, Updated 10:53 a.m. ET
The unemployment gap
The unemployment rate is the number of unemployed people out of the labor force. This figure can show a declining trend even if an increasing number of people give up searching for jobs and consequently depart from the labor force.
So when we look at the unemployment gap, we should also look at the participation gap. If the former is declining and the latter is rising, it could be due to an increase in labor market slack of the first kind, discussed in Part 7.
Article continues below advertisement
In the United States, the unemployment gap has declined significantly since the sub-prime crisis. However, the incidence of underemployment still remains elevated, and the size of the labor force remains well below Congress's assessment of its potential. Good evidence is found in the fact that unemployment has been declining steadily, yet wage inflation remains subdued in the United States (VTI) (IWD) (IWF).
Labor market slack impacts prices and wages
Slowdowns in economic activity coupled with limited employment opportunities tend to exert a downward pressure on prices and wages in the economy. We're increasingly seeing employers fill in a job vacancy by hiring a person who had previously been working part-time, either at the same company or elsewhere. Employers might also hire a person who has just rejoined the labor force and thus wasn't being counted as unemployed. This is advantageous since the employer doesn't have to bid up the wage of an incumbent full-time worker. Employment of this kind does little for wage inflation. On the contrary, it tends to keep nominal wages anchored at their current levels.
It's in these situations that inflation persistently falls short of the central bank's target. This is coincident with what's currently happening in the United States. A slump in overall demand seen as deflationary pressures is rising in most developed (EFA) (VEA) nations. It's a definite deterrent to the inflation rate moving toward the Fed's target rate of 2%. At 1.4% as of January 2016, it still has a long way to go.
Let's move on next to see what industry or sector this slack is coming from.