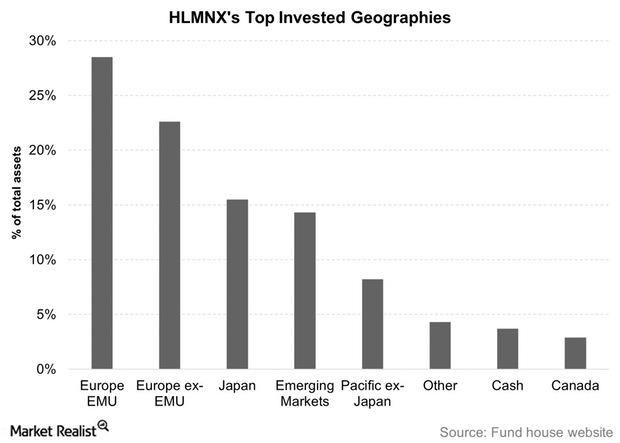 What's the Harding Loevner International Equity Portfolio's Strategy?
By David Ashworth

Mar. 10 2016, Published 11:49 a.m. ET
Harding Loevner International Equity Portfolio
The Harding Loevner International Equity Portfolio invests in developed markets except the US and in established companies from emerging and frontier markets. Fund literature states that the fund normally invests in at least 15 countries. The fund is managed by a team of five. Its co-managers are Ferrill Roll and Alexander Walsh.
The managers create a sub-model portfolio for the international equity strategy, which is combined to create a single model portfolio. Bottom-up stock selection drives sector and country allocation. In order to keep the volatility of the portfolio under check, the assets are spread across "dimensions of geography, industry, currency, and market capitalization." Fund managers, under normal circumstances, will not invest more than 15% of the fund's assets in US stocks.
Article continues below advertisement
Portfolio composition
The fund declares holding information once every three months. According to information provided by the fund house, information technology was the single-largest sectoral holding of the fund and formed 18.1% of the December 2015 portfolio. Healthcare and financials, in that order, were second and third and formed a combined 30.9% of the portfolio. Compared to the MSCI All Country World ex-US Index, the fund was overweight in the consumer staples, healthcare, and information technology sectors while it was underweight in the consumer discretionary, financials, and telecom services sectors. The fund was not invested in the utilities sector.
The fund has provided region-wise geographic exposure instead of country-wise exposure. 28.5% of the fund's December assets were invested in Europe EMU (Economic and Monetary Union), and 22.6% were invested in Europe ex-EMU. The fund was not invested in frontier markets or the Middle East.
Anheuser-Busch (BUD), Baidu (BIDU), Canadian National Railway (CNI), Fresenius Medical Care (FMS), and Grifols (GRFS) were among the fund's 52 holdings as of the end of December. As of February 2016, the fund was managing assets worth $5.2 billion, making it the largest fund in this review.
Fees and minimums
The Harding Loevner International Equity Portfolio – Investor Class (HLMNX) was incepted in September 2005 and has an expense ratio of 1.2%. There is a minimum investment requirement of $5,000 to invest in this fund via Class A shares, but there is no minimum limit on subsequent investments. The fund does not levy a sales charge, but it does levy a redemption fee of 2% of the amount redeemed if the shares are sold within 90 days from purchase.