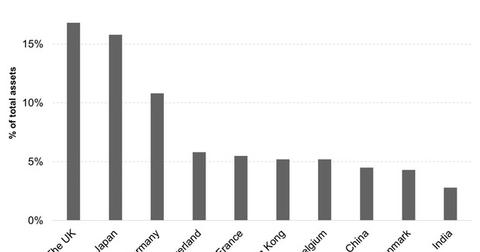 What You Should Know about the Calamos International Growth Fund
By David Ashworth

Updated
Calamos International Growth Fund
The Calamos International Growth Fund invests in non-US growth companies and positions itself as a growth-focused offering to a "mostly core- or value-intensive international allocation." The fund house says that the international assets class comprises mostly of core and value offerings and "only about 10% of international stock assets are currently invested in growth." Fund management looks at increasing profit margins and high returns on invested capital as the key growth characteristics. The fund is managed by a team of six and is led by John Calamos.
Article continues below advertisement
Fund management expects to invest at least 40% of its assets in foreign issuer securities. This is so because managers look at the source of a company's revenue rather than the location of its headquarters. Thus, a company may be located in the US, but if a large portion of its revenue comes from abroad, then the fund can invest in it. The fund can invest across market caps and it employs both top-down and bottom-up research in order to select securities for the portfolio.
Portfolio composition
The fund declares holding information once every three months. According to information provided by the fund house, information technology was the single-largest sectoral holding of the fund and formed 20.2% of the portfolio as of December 2015. Consumer discretionary and financials, in that order, were second and third, and formed a combined 34.9% of the portfolio. Compared to the MSCI ACWI ex USA Index, the fund was overweight in the information technology, consumer discretionary, and financials sectors, among others. It was underweight in the consumer staples and telecom services sectors. The fund is not invested in the materials and utilities sectors.
Stocks from the UK formed 16.8% of the fund's assets for December, making the UK the geography with the highest weight. Japan followed closely, forming 15.8% of the portfolio. Germany, Switzerland, and France, in that order, rounded off the top five countries with the highest weights.
WPP (WPPGY), Toyota Motor (TM), Diageo (DEO), Unilever (UN), and Fanuc (FANUY) were among the fund's 85 holdings as of the end of December. As of February 2016, the fund was managing assets worth $526.1 million.
Fees and minimums
The Calamos International Growth Fund – Class A (CIGRX) was incepted in March 2005 and has an expense ratio of 1.3%. There is a minimum requirement of $2,500 to invest in this fund via Class A shares, and the minimum subsequent investment is $50. The fund can charge a maximum sales charge of 4.8% on the purchase of Class A shares.