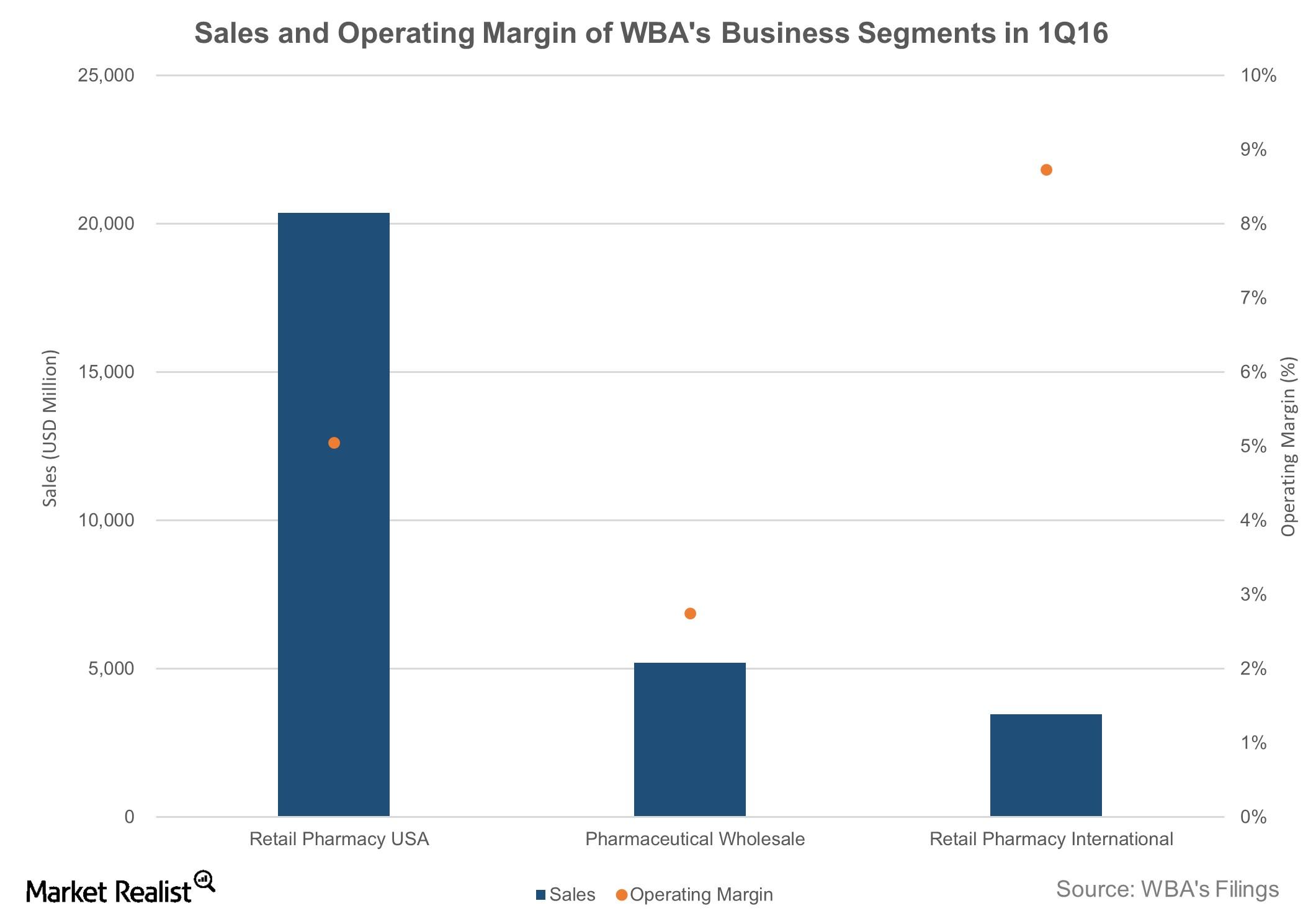 What Were the Key Revenue Drivers for WBA in 1Q16?
By Sonya Bells

Mar. 30 2016, Published 11:43 a.m. ET
A Look at WBA's top line in 1Q16
Walgreens Boots Alliance's (WBA) sales rose 48.5% YoY (year-over-year) to $29 billion in 1Q16. The increase was largely driven by the consolidation of the operations of Alliance Boots, which the company acquired in December 2014, along with some growth in the Retail Pharmacy USA division. Full consolidation of Alliance Boots' operations resulted in more than a 90% increase in sales during the quarter.
Article continues below advertisement
Retail Pharmacy USA division
The Retail Pharmacy USA division displayed strong topline performance and grew by 4.2% YoY to reach $20.4 billion in 1Q16. This increase was driven by a 5.8% increase in same-store sales, which was partially offset by the sale of WBA's infusion business and store closures during the past year.
Pharmacy sales, which accounted for 68.4% of Retail Pharmacy USA division's total sales in the quarter, rose 6.7% YoY. The company attributed this increase to growth in Medicare Part D and an increase in focus on pharmacy customer care.
Retail Pharmacy International division
The Retail Pharmacy International segment includes the legacy Alliance Boots pharmacy operations, which the company acquired in December 2014. Sales of this segment stood at $3.5 billion during 1Q16. Comparable-store sales rose by 2.2% (pro forma constant currency), driven by a 3.8% increase in comparable pharmacy sales and a 1.3% increase in comparable retail sales.
Higher comparable pharmacy sales were a result of good growth in dispensing and pharmacy services in the UK and Mexico. Comparable retail sales were driven by strong growth in Ireland and the UK.
Article continues below advertisement
Pharmaceutical Wholesale division
The Pharmaceutical Wholesale division, which mainly operates under the Alliance Healthcare brand, reported first quarter total sales of $5.8 billion. Comparable sales for the division rose 3.1% during the quarter, driven by higher sales in Norway, Germany, and Turkey.
Growth comparisons
WBA's sales have grown by 14% over the last three fiscal years. In comparison, CVS Health (CVS), WBA's biggest competitor, has seen a 7.6% increase in sales. WBA's top-line growth, however, has been fueled largely by the Alliance Boots acquisition. Rite Aid (RAD), Walgreens' latest acquisition target, has grown its sales by only 0.55% over the past three years. Healthcare supply chain companies such as McKesson (MCK) and AmeriSourceBergenis (ABC) have seen higher growth in their top line. MCK has recorded a 14% increase while ABC has registered an increase of more than 20%. ETF investors seeking to add exposure to WBA can consider the Market Vector Retail ETF (RTH), which invests 5% of its portfolio in WBA.
Read the next section to find out about the company's profitability margins in 1Q16.