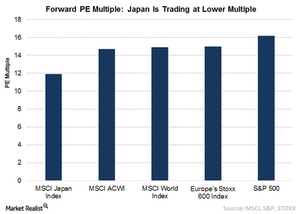 Why Japanese Stocks Look Attractive as Valuations Drop
By Heidi Richardson

Updated
Look for growth opportunity abroad
Despite slowing global growth, there are attractive potential opportunities outside the U.S. For example, Japanese stocks continue to offer relative attractive valuations, especially in comparison to other developed markets. Additionally we believe the Bank of Japan will continue to deliver market-friendly monetary easing policies in 2016 similar to the stimulus from QE and shareholder-friendly activities we saw in 2015.
Article continues below advertisement
Market Realist – Japanese stocks offer relatively attractive valuations
Japanese (EWJ) (SCJ) equities have become attractive thanks to relatively low valuations after a 20% fall from highs recorded in August last year. The MSCI Japan Index, which covers approximately 85% of the free float adjusted market capitalization, is currently trading at a forward PE (price-to-earnings) multiple of 11.9x compared to the MSCI World (EFA) (IEFA) Index at 14.9x and the MSCI All Country World Index at 14.7x. Similarly, Topix (Tokyo Stock Price Index) is now trading at 13x estimated earnings compared with 16.2x for the S&P 500 Index and 15x for Europe's (EZU) Stoxx 600 Index.
Japanese stocks also look cheaper on the PBV (price-to-book value) multiple basis. The MSCI Japan index is trading at a PBV ratio of 1.13x compared to 2x for MSCI World Index and 1.84x for MSCI ACWI. On the other hand, the S&P 500 is trading at a PBV of 2.58x while Europe's Stoxx 600 Index is at 1.6x.
Stimulus to bolster economic activity
The Bank of Japan has provided a lot of stimuli to pump up the struggling economy. In January, the Bank of Japan adopted a negative interest rate policy to bolster economic activity and achieve a 2% inflation target. A negative interest rate situation is likely to result in abundant liquidity in the market, which in turn is expected to spur demand and lead to economic growth.