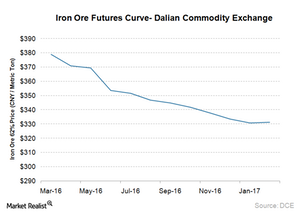 What Does the Futures Market Say about the Iron Ore Outlook?
By Anuradha Garg

Updated
Importance of iron ore futures
A commodity futures contract is an agreement to buy or sell a particular amount of commodity at a fixed price on a certain date or before it. Futures contracts depict market sentiment and expectations regarding future demand, supply, and price for a particular commodity. These contracts reflect current market conditions in future prices.
Article continues below advertisement
Backwardation in iron ore futures
In step with the spot prices, the Dalian Commodity Exchange (or DCE) iron ore future prices also edged higher after the Chinese New Year holidays. However, as the iron ore inventories at Chinese ports edged higher, the spot as well as futures prices weakened. Backwardation occurs when futures contracts trade below the spot price, and the futures curve begins to slope downward. As the above graph shows, the iron ore futures prices for months further in the future are priced lower than the near-term months, which means that the market expects a further fall in iron ore prices based on current indicators and fundamentals.
The predicted fall is mainly due to the rising port inventory in China, a bleak steel production outlook, and continuing capacity expansions by iron ore miners. The market condition opposite to backwardation is called contango.
Backwardation and iron ore companies
The losses in futures could prolong iron ore's retreat. Backwardation in the iron ore futures curve indicates negative market sentiment about future prices. The fall in futures prices is negative for companies such as Rio Tinto (RIO), BHP Billiton (BHP), Vale (VALE), and Cliffs Natural Resources (CLF). It's also a negative for funds that invest in iron ore companies such as the SPDR S&P Metals and Mining ETF (XME). CLF forms 3.7% of XME's holdings.