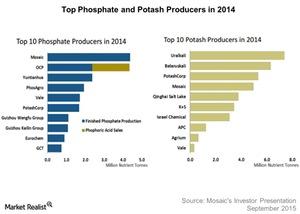 An Investor's Guide to The Mosaic Company
By Adam Jones

Updated
The Mosaic Company
The Mosaic Company (MOS), headquartered in Plymouth, Minnesota, is one of the largest producers of macronutrients. Out of the three important NPK (nitrogen, phosphate, and potassium) macronutrients, Mosaic produces and markets phosphate and potash. With a worldwide footprint, Mosaic serves customers in 40 countries.
Article continues below advertisement
History
Mosaic's existence dates back to 1909 to a company that was known as IMC Global. An entrepreneur named Thomas Meadows entered into the business of mining phosphate rock, and by 1940 the company was also in the potash business.
Around 1960, another company called Cargill was looking for a way to fill up empty barges to make its grain backhaul business profitable. As a result, it entered into the crop nutrient business, producing phosphate and nitrogen fertilizers. In 2004, both IMC Global and the crop nutrition division of Cargill combined to form The Mosaic Company.
Consolidated industry
Both phosphate and potash crop nutrients are derived from minerals in the earth. Due to the relatively scarce availability of these minerals and the capital intensiveness of the business, the phosphate and potash fertilizer industry is consolidated compared to nitrogen fertilizers. In other words, there are only a handful of players that produce both phosphate and potash crop nutrients and control a large market share.
These players include The Mosaic Company, PotashCorp (POT), Agrium (AGU), and Israel Chemicals (ICL). The VanEck Vectors Agribusiness ETF (MOO) holds about 15.3% of the above-mentioned companies in its portfolio.
To know more about fertilizer industry, you may read Fertilizer industry overview: Key stocks and ETFs.
Where does Mosaic stand in the industry?
Mosaic is one of the largest producers of phosphate crop nutrients, with 14% of global and 79% of North American concentrated phosphate annual production, according to the company. Similarly, Mosaic is one of the largest potash producers, with 13% of global and 44% of North American annual potash production.
In the next article, let's next delve a little deeper into Mosaic's phosphate operations.