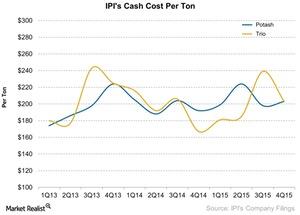 How Intrepid Potash Is Managing Its Cash Costs
Cash cost per ton
Previously, we covered the average realized prices for Intrepid Potash's (IPI) products. When considering Intrepid Potash's average realized prices, you should also look at the cash costs for producing the company's products: potash and Trio. Reducing the cost of production can help the company's margins, which we'll discuss in more detail below.
Article continues below advertisement
Lowering costs
The cash cost per ton for potash products increased slightly to $203 in 4Q15 from $192 in 4Q14, while Trio's cash cost per ton increased 22% to $203 in 4Q15 from $167 in 4Q14. The company uses two methods for mining potash: the conventional mining method and the solar evaporation method. The former is more costly as a result of higher energy, labor, and equipment costs.
Dealing with high costs
The company is moving away from conventional mining with its East facility being transitioned to a Trio-only facility. The company will still have its conventional facility in the West, which will be the high-cost facility for potash production. In its 10-K filing, the company stated, "Given the current and expected potash pricing environment, we are performing a strategic review to determine the viability of this facility long term."
Given that potash demand is not going to increase soon, the company has the option of expanding the solar evaporation method. Companies such as PotashCorp (POT), Mosaic (MOS), and Agrium (AGU) have also contributed to the excess supply environment, which is affecting the Market Vector Agribusiness ETF (MOO).