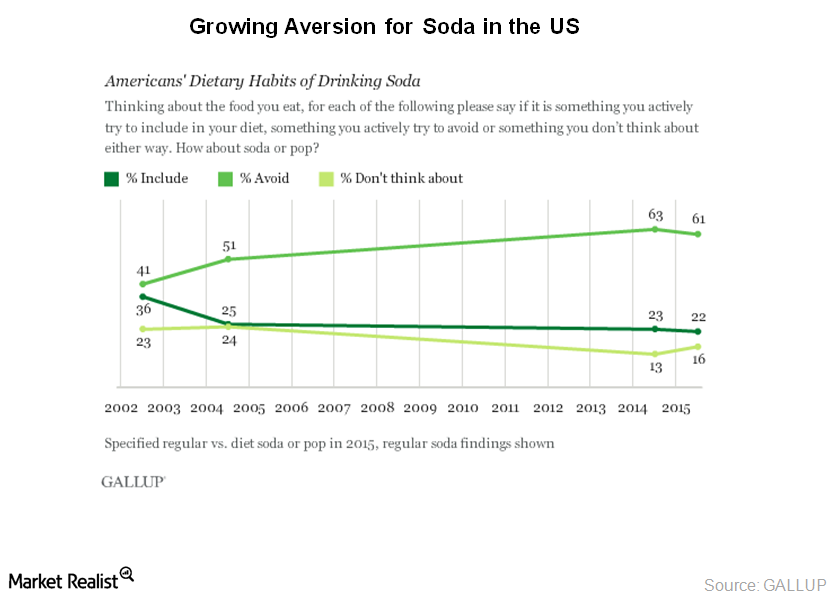 Insight: The Transition in US Nonalcoholic Beverage Choices
By Sirisha Bhogaraju

Mar. 29 2016, Published 9:41 a.m. ET
Consumers looking for wider options
The US nonalcoholic beverage industry is going undergoing a transition. Well-informed consumers are looking for wider and better choices beyond traditional soda beverages. Recently, the industry has seen some interesting innovations—like craft sodas, low-calorie beverages, and cold-pressed juices. Nonalcoholic beverage firms have also been introducing new flavors across several categories, like sparkling water and energy drinks.
Article continues below advertisement
The US nonalcoholic beverage industry is seeing continued weakness in soda volumes. A survey by Gallup in July 2015 showed that Americans are more likely to avoid soda or pop than they are to avoid sugar, fat, carbohydrates, and 11 other nutrients or types of foods. The survey also showed that about 61% of respondents would likely avoid soda in their diets—a big change from 41% in 2002.
Beverage companies feel the pressure
Major nonalcoholic beverage companies in the United States—like Coca-Cola (KO), PepsiC0 (PEP), and Dr Pepper Snapple (DPS)—have been experiencing weakness in soda volumes as health-conscious consumers show aversion to sugary beverages. These three beverage companies together account for 15.1% of the Consumer Staples Select Sector SPDR Fund (XLP).
In Part 4 of this series, we'll discuss how these companies are seeing promising growth in volumes for noncarbonated or still beverage categories, like ready-to-drink tea and bottled water. In its 3Q15 conference call, PepsiCo's chairman and CEO, Indra Nooyi, mentioned that, given the shift in the marketplace toward noncarbonated beverages, the company will have to step up its investment and innovation in the category.
Despite growing health concerns, companies like Monster Beverage (MNST) continue to benefit from strong demand for energy drinks compared to traditional soda beverages.
Monster Beverage and Coca-Cola together constitute 10.8% of the Consumer Staples Select Sector SPDR Fund (XLP).
Series overview
In this comprehensive report on nonalcoholic beverages, we'll discuss evolving consumer tastes across nonalcoholic beverage categories. Specifically, we'll discuss the shift in consumer preferences from carbonated soft drinks to other nonalcoholic beverages like ready-to-drink tea, bottled water, and sports drinks. The series will also shed some light on trends in some of the key noncarbonated beverage categories. Finally, we'll discuss the performance of major nonalcoholic beverage companies in recent years and their stock price movements.