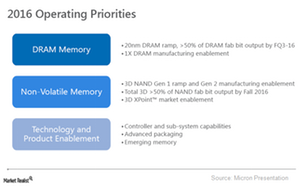 Inside Micron's Business Focus for 2016
By Puja Tayal

Updated
Micron's 2016 operating priorities
For 2016, Micron Technology (MU) has set aside around $5 billion in capital expenditure, of which ~$800 million is to be spent on two facilities, a fab (fabrication plant) in Singapore (EWS) and a research and development fab in Boise, Idaho.
Article continues below advertisement
DRAM
On the migration front, Micron is ramping up DRAM production on the 20nm (nanometer) node and expects to produce more than 50% of its DRAM output on 20nm by fiscal 3Q16. The company is also developing 1X node, or 10nm, at its fab in Hiroshima, Japan, and plans to deploy it in Taiwan in the spring of 2016. By comparison, Samsung (SSNLF) and SK Hynix are also working on 10nm technology, whereas Intel (INTC) has delayed the introduction of its 10nm node to 2017.
Notably, Micron plans to package DRAM with essential sub-systems such as eMCPs (embedded multi-chip package) and non-volatile DIMM (dual in-line memory module) to ensure enablement with the end product.
Non-volatile memory 
On the migration front, Micron is ramping up production of 3D NAND Generation 1 and expects to produce more than 50% of its NAND output on 3D Technology by the fall of 2016. The company is also working on the development of 3D NAND Generation 2 and is likely to start production in 2017.
Meanwhile, the company has been testing its breakthrough memory technology, 3D XPoint, to enable the technology on end-consumer devices. This may face competition from SanDisk (SNDK) and Hewlett-Packard (HPQ), who claim to have jointly developed a storage-class memory technology that can compete with 3D XPoint.
At the start of fiscal 2017, there will be a significant increase in Micron's bit growth, which should continue throughout 2017 as 1X technology enters production. The company would be in a position to respond to market needs with the expansion of Fab 10X in Singapore (EWS).
In the next part, we'll look at Micron's DRAM strategy.