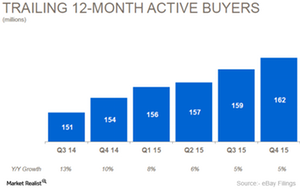 What Initiatives Is eBay Taking to Stimulate Its Buyers' Growth?
By Parker Thomas

Mar. 9 2016, Published 10:41 a.m. ET
Structured data
The issues faced by eBay (EBAY) due to cyber threats and Google's (GOOG) Panda updates led the company to decelerate its active buyers' growth.
Previously, eBay took several measures such as structuring data, improving SEO, and adding new eBay app features to bring new buyers on board.
Organic search, wherein results pages appear based on relevant keywords, plays a significant role in driving Internet traffic to a web portal. Earlier, eBay's product listing was not standardized, which makes it difficult for search engines such as Google (GOOG), Yahoo! (YHOO), and Microsoft's (MSFT) Bing to index eBay's inventory.
However, the company's initiative to bring granularity to the listing could help to increase exposure for items in organic searches. As a result, both sellers and buyers will benefit from the increase in visibility of products filtered through several parameters including deals and promotions.
Article continues below advertisement
eBay 4.0
In September 2015, eBay rolled out a new version, eBay 4.0, to improve the overall experience of traders on its app. The objective is to provide a user-friendly interface and image-centric design for better navigation and clear visibility.
The interface is primarily divided into three sections—Activity, Shop and Sell—which allow users to keep track of auctions, deals, and promotions. Moreover, the app is also capable of monitoring users' behaviors based on their traced activities, and it provides a dashboard for regular sellers to monitor daily updates.
During the recent quarter, eBay added 79 million unique products to its catalogue, which increased its listings processed to 37% YoY (year-over-year) from 28% YoY in the previous quarter. The company's active buyers stood at 162 million, a rise of 5% YoY.
Moreover, the company's gross merchandising volume (or GMV) from Marketplace grew by 4% YoY. StubHub and Classifieds have seen significant rises of 34% and 15%, respectively, YoY. eBay's rival Alibaba's (BABA) GMV grew at a rate of 23% for 4Q15.
eBay constitutes 0.65% of the PowerShares QQQ ETF (QQQ).