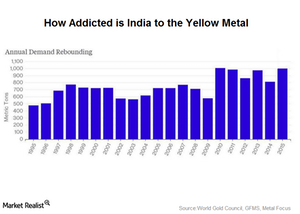 Why Has India Been Making Failed Attempts to Curb Gold Demand?
By Meera Shawn

Updated
Gold schemes for India
India's government is trying hard to intervene in its gold demand. Even given some policies introduced during the past couple of years, nothing seems to have slowed demand. India has a large trade deficit, and its import bill mostly constitutes oil and gold.
Though the deficit figures are predicted to have shrunk to $16 billion from the previous $27 billion, the government is trying hard to further reduce this amount.
There have been a number of plans introduced by the Indian government to curb affection for gold. A few of these plans are listed below:
Article continues below advertisement
In 2013, the duty applied to imports was close to 4%–8%, which was later lifted to 8%–10%.
Later in 2013, there was an 80-20 rule, which forced importers to export at least 20% of imported gold.
In 2015, gold bonds and gold monetization schemes were introduced.
Another rule introduced in 2015 stated that any buyer purchasing above 200,000 Indian rupees—about $3000—worth of gold should provide their Permanent Account Number details.
Recently, the government once again levied an import duty of 8.75%. Read Top Gold-Buying Market India Increased Taxes on Gold: What Now? for further details on this plan.
Demand stayed steady
Despite these measures to reduce demand for gold, aggregate gold demand stood at approximately 947 tons in 2015. This was the third-highest amount ever. Year-over-year, imports saw a rise of close to 11%.
Steady demand from India could impact the prices of gold and gold-based investments such as the iShares Gold Trust ETF (IAU) and the SPDR Gold Shares ETF (GLD). The rise in gold will also benefit companies in the mining business such as Barrick Gold (ABX), Newmont Mining (NEM), and Agnico-Eagle Mines (AEM).