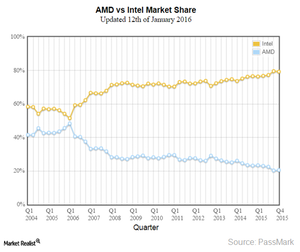 What Could Impact the Success of AMD's Zen Core the Most?
By Puja Tayal

Updated
Can Zen win market share back from Intel?
We've already discussed how Advanced Micro Devices (AMD) is aiming to compete with Intel (INTC) in the microprocessor space by testing and manufacturing its Zen core processor, which is scheduled to enter the market in 4Q16. With Zen, then, AMD looks poised to regain some share in the server and PC processor market. The question that remains is twofold: how much, and for how long?
Article continues below advertisement
Technology advantage short-lived
AMD is a very small player compared to Intel, which holds more than 80% share in the PC processor market and more than 99% in the server market. AMD has been surviving on low-end desktops and laptops after being hit by the slowdown in PC sales and the failure of its 28nm Bulldozer cores. But the Zen core should bring AMD back into competition, marking its entry into the high-end desktops, gaming, and server markets.
Notably, CERN (The European Organization for Nuclear Research) has already shown interest in the Zen processor. This is a positive sign for competition. But Zen won't launch until 4Q16, while Intel's Skylake and Broadwell processors are already available on the market. And even if Zen manages to attract customers, Intel is already working on a 10nm Cannonlake processor, which is scheduled to be launched in 2017. Hence, Zen's technology advantage could be short-lived.
Still, if AMD succeeds in gaining just 1% of Intel's market share, it would mean a double-digit growth in sales for AMD, given its small size.
Slowing PC market
Another factor affecting AMD is launching a product in the slowing PC market. If the company manages to secure design wins in this slowing market, its market share will grow and positively affect revenue. This was witnessed in AMD's fiscal 2H15 results, when it reported double-digit sequential growth in its computing and graphics segment. In 2015, it secured contracts to supply computer chips to Apple (AAPL) and Hewlett-Packard (HPQ).
The iShares Russell 1000 ETF (IWB) invests in large-cap stocks across various industries, including technology. It has ~3.0% exposure to AAPL, 0.75% to INTC, and 0.10% to HPQ.
Certainly, Zen is AMD's best bet to reverse its ailing situation and improve margins in the microprocessor market. But the company is meanwhile targeting its product innovations to prepare for the next big opportunity of VR (virtual reality). We'll look deeper into this in the next part.