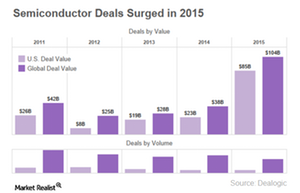 The Impact of M&As on Semiconductor Companies' Balance Sheets
By Puja Tayal

Updated
2015: A record year for M&A deals
In the previous part of this series, we saw that many cash-rich companies broadened their product offerings through M&As (mergers and acquisitions). According to Dealogic, 2015 was a record year for semiconductor M&A deals.
Although the number of deals decreased, the value soared to $189 billion in 2015 as some of the biggest deals took place during the year. The most expensive deal was the $37 billion merger between Avago (AVGO) and Broadcom, followed by the $19 billion Western Digital-SanDisk merger, which is currently on the verge of falling apart.
The increasing cost of innovation, availability of cheaper debt, declining revenues, and strong M&A activity from China (MCHI) drove M&A activity in the semiconductor industry in 2015.
Article continues below advertisement
Semiconductor leverage increases
How did the companies manage to fund such expensive deals? What impact did it have on the acquirers' balance sheets? Cash-rich companies funded acquisitions through a combination of existing cash reserves, stocks, and debt whereas companies with limited cash funded acquisitions through debt.
Intel (INTC) issued a new debt of about $9.5 billion to finance the $16.7 billion Altera acquisition. Lam Research (LRCX) took about $3.9 billion in debt to fund the $10.6 billion acquisition of KLA-Tencor (KLAC).
Impact of acquisition on debt levels of companies with limited cash
Microchip's (MCHP) acquisition of Atmel for $3.5 billion would increase the senior debt-to-EBITDA (earnings before interest, depreciation, and amortization) ratio of the former to 2.7x and total leverage to 4.5x. It could take Microchip three years to reduce the leverage to 3.1x.
NXP Semiconductors (NXPI) took a $2.7 billion five-year term loan to fund the $11.8 billion merger of Freescale. NXP Semiconductors' total debt more than doubled from $3.98 billion in fiscal 2014 to $8.6 billion in fiscal 2015. This is expected to result in an interest expense of roughly ~$95 million in the March 2016 quarter. However, the company's revenue is also expected to double after the acquisition.
ON Semiconductor (ONNN) is raising new debt of $2.4 billion to fund the $2.4 billion Fairchild Semiconductor (FCS) acquisition. This would increase ON's long-term debt almost fourfold from the current level of $850.5 million.
Higher leverage in an industry like the semiconductor space, which has volatile earnings, constrains the company's financial flexibility by adding a fixed cost of interest.