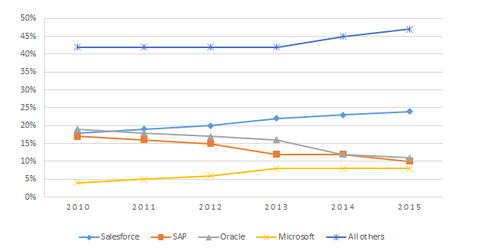 IBM Aims to Tap the Fast-Growing CRM Space with Optevia
By Anne Shields

Updated
Optevia is a part of G-Cloud
Previously in the series, we discussed IBM's (IBM) recent acquisition of Optevia, which is a SaaS (software-as-a-service) CRM (customer relationship management) integrator. We also discussed Optevia's prominent space in the UK's public sector space. Optevia is a member of the UK (EWU) G-Cloud (Government Cloud). The UK government launched G-Cloud in 2012 to promote adoption of cloud computing in the government sector. Optevia has said that its G-Cloud business contributed 60% towards its overall revenues in 2014.
According to Computing.co.uk, G-Cloud sales rose by 47 million pounds in January 2016 to reach 1.0 billion pounds. This increase in sales indicates that the UK public sector is increasingly finding cloud services and consultancy attractive.

Article continues below advertisement
Top five players dominate the CRM space
Salesforce (CRM) rules the global CRM market. It held 16.3% market share in 2014. Salesforce is followed by SAP (SAP) and Oracle (ORCL), which held 12.1% and 10.8% of the market share, respectively. Microsoft (MSFT) and IBM were other players on the top five list that held 5.8% and 3.9% market share, respectively. CRMsearch.com also places Salesforce and the other players in a similar position in the CRM space as the above chart shows.
According to Gartner, the global CRM market was worth $23 billion in 2014 where the top five players controlled approximately half of the market. Gartner expects the CRM software market to grow at a 14.8% CAGR (compound annual growth rate) by 2017.
Though Microsoft has less than a 10% share in the global CRM market, its software is very much in demand in the UK's public sector. Microsoft has tried to leverage its popularity and has pushed its other offerings like MS Windows, MS Office, and SQL Server in this market.
Through Optevia, IBM intends to not only benefit from growth in the CRM space but also from Microsoft Dynamics' in-depth presence and preference in the UK market.