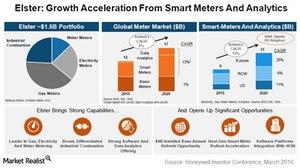 Honeywell's Acquisitions: Shopping for Great Companies
By Shannon Black

Updated
How deep is Honeywell's treasure chest?
While companies in several industries such as chemicals (VAW) and industrials (XLI) are shifting focus on their core portfolios, Honeywell (HON) is treading a path less traveled. Armed with its enormous war chest of $5.4 billion in liquid cash, a whopping 11% of its total assets, the company has set out to make acquisitions to the tune of $10 billion through the end of 2018.
Honeywell (HON) has quite a strong reputation for integrating its acquired targets. This should alleviate shareholder concerns about the company blowing away their money in failed acquisitions, instead of returning it to them in dividends or buybacks.
Honeywell even entered discussions for a merger with United Technologies (UTX), a company that made $56 billion in sales in 2015. It made two major acquisitions in 2015, which we discuss next.
Article continues below advertisement
Honeywell's acquisitions: Elster, the metering giant
Honeywell successfully completed the acquisition of London-based Melrose Industries' (MLSPY) Elster unit for $5.1 billion, 12.6 times Elster's 2015 earnings estimates in July 2015, when the agreement was signed. In December 2015, the EU Competition Commission approved the merger after Honeywell offered to divest its gas metering business to allay concerns of an overlap related to the product.
Elster is a leader in gas, water, and electric metering products, which comprise a major portion of its business. The gas metering business, which has end markets in the gas transmission and distribution industry, will be a part of the Process Solutions segment in the Performance, Materials, and Technologies unit. The rest will go to Automation and Control Solutions. Elster's consensus sales at the time of acquisition were ~$1.8 billion.
Sigma-Aldrich: The Fine Chemicals business from Germany
Honeywell successfully completed the acquisition of Sigma-Aldrich, a research-chemicals business based in Germany, for 105 million euros in December 2015. Sigma Aldrich's portfolio comprises branded solvents and inorganic chemistry products, which will be integrated into Honeywell's Fine Chemicals unit in the Performance Materials and Technologies segment.
Dow Chemicals (DOW) and Dupont (DD) are Honeywell's major competitors in the Fine Chemicals business.