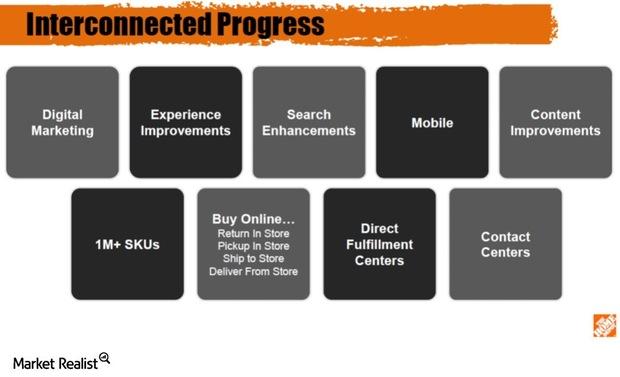 A Look at the Details of Home Depot's Digital Update
By Phalguni Soni

Nov. 22 2019, Updated 6:43 a.m. ET
Interconnected retail: Home Depot's mantra for a seamless omni-channel strategy
On March 8, 2016, Home Depot's (HD) senior vice president and president of online business Kevin Hofmann presented at the 37th Annual Raymond James Institutional Investors Conference.
At the conference, Hofmann discussed the company's interconnected retail strategies, the market segments it was eyeing, and updates on its guidance for the current fiscal year.
"You got to have a great mobile property, great tablet experience, great PC experience, great virtual experiences coming together with 2,200 stores, a full supply chain with multiple distribution centers across the whole country, over 350,000 associates, a tremendous assortment of goods and products that you can bring to bear in front of the customer and then centralized associates and contact centers," said Hofmann.
"So all of those physical assets and the new virtual assets that we bring together coming together in a symbiotic way to solve for the customer experience. That's our term of interconnected retail," he added.
Article continues below advertisement
Digital genius
Home Depot's been following an omni-channel strategy for quite some time now. The strategy leverages elements of its brick-and-mortar store network and digital capabilities to create a seamless shopper experience. While other retailers have been quick to jump on the omni-channel wagon, Home Depot has executed its strategies better than most.
In 2015, Home Depot was ranked number one among 61 big-box retailers (RTH) in terms of digital IQ by digital benchmarking company L2. Home Depot was followed by Walmart (WMT) in second, Best Buy (BBY) in third, and Office Depot (ODP) and Target (TGT), both in fourth place. Rival Lowe's (LOW) was ranked tenth.
In this series, we'll discuss Home Depot's omni-channel initiatives and how they're spurring higher sales growth (VUG) (IVW) for the retailer.