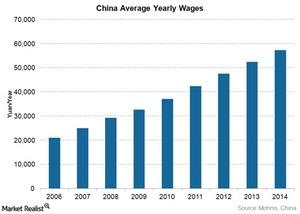 Why Higher Wages Are a Stepping Stone on China's New Growth Path
By Surbhi Jain

Updated
China's one-child policy has led to rising wages
China's erstwhile one-child policy led to a rise in wages. The country's high population density and supply of cheap labor, which once made this emerging market (EEM)(VWO) the world's preferred manufacturing hub, are now drying up.
While the one-child policy may have helped China's population from running rampant, it also decreased the working population. The supply of cheap labor that helped China (FXI)(ASHR) become the world's (VTI) workshop is drying up. Consequently, the labor supply shortage has been pushing up wages in China.
Moreover, the younger generation of workers is increasingly turning their backs on factory work in favor of less laborious jobs. With the manufacturing recession continuing in China, this trend will likely persist.
Article continues below advertisement
Reforms to play a big role
Reforms such as a higher wage and urbanization are in place to rebalance China away from investment and toward consumption demand. Higher wages mean increased household income, and increased household income leads to increased consumer spending, which would fuel China's growth.
It's a good idea for you to look at spending and income indicators as China embarks on its new consumption-driven growth plan.