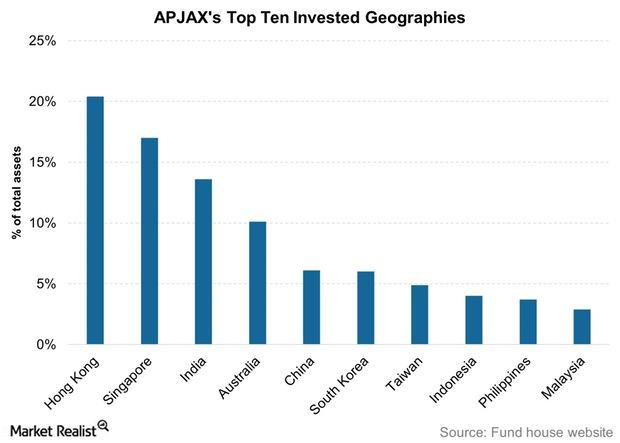 Helpful Facts about APJAX
By David Ashworth

Mar. 7 2016, Updated 4:55 p.m. ET
Aberdeen Asia-Pacific (ex-Japan) Equity Fund
The Aberdeen Asia-Pacific (ex-Japan) Equity Fund (APJAX) aims to invest 80% of its net assets in equity securities of Asia-Pacific (ex-Japan) companies.
For the fund house, the region includes Sri Lanka, Bangladesh, Pakistan, South Korea, Taiwan, Hong Kong, Malaysia, Singapore, China, Thailand, Indonesia, Australia, New Zealand, the Philippines, and India. The fund follows a team-based approach for managing APJAX. The four-manager team is led by Hugh Young.
Article continues below advertisement
Apart from common stocks, the fund may invest in preferred stocks and depositary receipts as well. The fund can invest across market capitalizations, is not currency hedged, and, at times, may invest a significant portion of its assets into a single country from the region. Managers have not placed a limit on exposure to emerging market equities, which means that a significant amount of exposure to these markets is possible.
Portfolio composition
As stated in the fund literature, financials were the single largest sectoral holding of the fund and formed 39.7% of the portfolio as of January 2016. Materials and information technology, in that order, were a distant second and third, with nearly equal exposure.
Compared to the MSCI AC Asia Pacific ex Japan Index, the fund is overweight in the materials, financials, and telecom services sectors. On the other hand, it's underweight in the information technology, consumer discretionary, and energy sectors. The fund is not invested in the utilities sector.
Article continues below advertisement
Stocks from Hong Kong and Singapore form a combined 37.4% of the fund's assets. Stocks from India, Australia, and China round off the top five invested geographies. Compared to the above-mentioned index, the fund is overweight in Hong Kong, Singaporean, Indian, and Indonesian equities, among others, while being underweight in Australian, Chinese, South Korean, and Taiwanese equities.
Rio Tinto (RIO), HSBC Holdings (HSBC), BHP Billiton (BHP), PetroChina (PTR), and British American Tobacco (BTI), were among the fund's 43 holdings as of the end of January 2016. As of January, the fund was managing assets worth $35.4 million.
Fee and minimums
APJAX has existed since November 2009 and has an expense ratio of 1.5%. You require a minimum of $1,000 to invest in this fund via Class A shares, and the fund can charge a maximum sales charge of 5.8% of the offering price. The minimum limit for additional investment is $50.
In the next article, we'll look at some of the key metrics of the fund's performance in the one-year period ended February 2016.