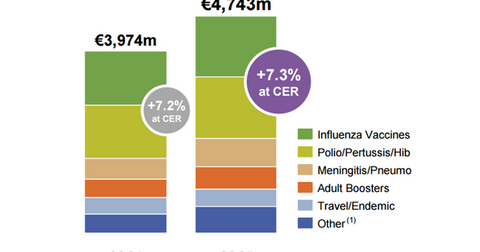 Is the Growing Vaccine Business a Valuation Catalyst for Sanofi?
By Jillian Dabney

Updated
Vaccine business performance continues to be strong
Sanofi Pasteur is the vaccines division of Sanofi (SNY). The business contributed 4.7 billion euros to Sanofi during 2015, reflecting a jump in annual sales by 7.3%. The operating margin for the Vaccine segment stood at 29.8% in 2015, the highest among the three segments. The company expects further margin improvement for the business.
Article continues below advertisement
Vaccine sales will be fueled by Dengvaxia
Dengvaxia is the world's first dengue vaccine. It was approved in December 2015 in Mexico, the Philippines, and Brazil, and it was more recently approved in El Salvador. The product has not yet generated any sales for Sanofi.
There will be regulatory decisions on the vaccine throughout the endemic countries. According to the World Health Organization, dengue is the fastest-growing mosquito-borne disease in the world today and results in nearly 400 million infections every year. Brazil spends ~$1.2 billion every year on hospitalized cases and ambulatory services for dengue.
Zika virus R&D project by Sanofi
Sanofi has licensed vaccines against yellow fever, Japanese encephalitis and most recently, dengue. On February 2, 2016, Sanofi announced a new R&D project to develop a vaccine against Zika virus (or ZIKV). Currently, there is no treatment or vaccine for Zika. ZIKV closely resembles the dengue virus and may offer the vaccine giant an advantage in terms of speed in understanding and identifying potential vaccine candidates for clinical development against ZIKV.
In the Vaccine segment, Sanofi competes with Pfizer (PFE), Merck & Co. (MRK), GlaxoSmithKline (GSK), and Novartis AG (NVS).
Industry-specific factors such as pricing pressure and volume uptake are among the major contributors to Sanofi's performance. Pharma companies' stock prices are susceptible to such events, and risk-averse investors may wish to consider ETFs. To get gain broad-based exposure to Sanofi and other pharmaceutical companies, investors can choose to invest in the VanEck Vectors Pharmaceutical ETF (PPH). Sanofi accounts for 5.13% of PPH's total holdings.