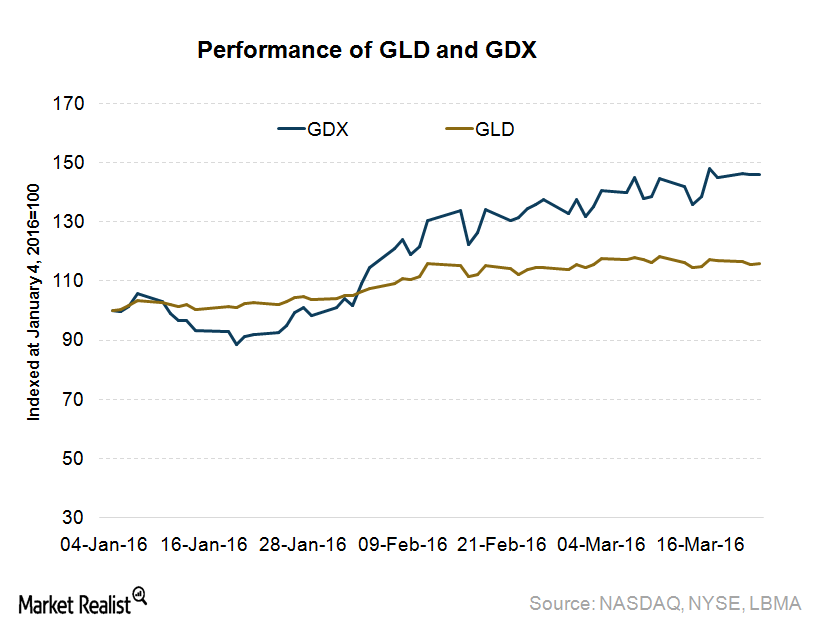 Where Are Gold Prices Headed Next?
Correction ahead?
The first quarter is usually a strong period for gold and gold stocks. However, now gold is more expensive than other commodities and its own historical prices. Also, as we've discussed in our previous articles, the net long positions at COMEX may also be on the verge of reversal on profit taking. This could mean a short-term pullback in the prices of gold, which could trade sideways for some time in the absence of any major catalyst in the form of news flow.
Article continues below advertisement
Support in the medium term
That being said, a short-term reversal doesn't mean that gold prices have lost steam. There are still many factors that support even higher gold prices in the medium- to long-term. Until investors are convinced that central bankers can control the factors they are meant to, they'll keep on betting on safe-haven assets with no counterparty risk such as gold. With the terrorist attack in Brussels, uncertainty has renewed in the region. Any increased conflict could lead investors to gold or other safe-haven assets such as the US dollar, the Japanese yen, or US Treasuries.
A lot in the medium term will also depend on the timing, frequency, and size of the Fed rate hike. According to the recent speeches by Fed officials, there could be a rate hike in June of this year and one later this year. This will likely put a ceiling on the gold price in the medium term.
More upside than downside
Any resulting weakness in gold prices could spur physical gold buying from India and China, which are known to buy on dips. This could further support gold prices. Even considering a Fed rate hike, the variables are skewed towards an upside for gold prices rather than a downside. Growth and inflation are expected to remain subdued worldwide, which will push central banks to follow loose monetary policies supporting gold.
For investors who are wary of such pullbacks, buying some put options on gold could be a good idea. More aggressive investors, on the other hand, could buy more leveraged gold ETFs such as the Direxion Daily Gold Miners Bull 3X ETF (NUGT) or the Direxion Daily Junior Gold Miners Bull 3X ETF (JNUG). Gold miners such as Iamgold (IAG), AngloGold Ashanti (AU), and Coeur Mining (CDE) also provide leveraged exposure to gold prices. Together, they contribute 4.6% to the price determination of the VanEck Vectors Gold Miners ETF (GDX).