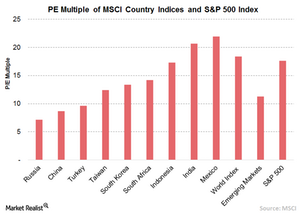 Are Global Equity Markets Reasonably Valued after Sell-Off?
By Russ Koesterich, CFA

Mar. 3 2016, Published 2:27 p.m. ET
Against this backdrop, bargain-hunting investors are asking whether there may be opportunities.
My take: Given that the sell-off is occurring in the aftermath of a multi-year bull market, stocks overall still aren't cheap. That said, it's not too early to begin compiling a shopping list of potential bargains that may be worth considering.
While the selling has returned some value to equities, the best that can be said is that most markets now look reasonable. According to a BlackRock analysis using Bloomberg data, a global benchmark (ACWI) is trading at around 16.5x trailing earnings, down around 7.5 percent from last summer's peak but roughly in-line with the 10-year valuation average. Global stocks look cheaper on a price-to-book (P/B) basis, but with the exception of emerging markets equities, they are only trading at a small discount to their 10-year average.
Article continues below advertisement
Market Realist – Valuation back to normal
The recent correction in the global (SCZ) equity markets makes valuations very attractive. The price-to-earnings ratio is one of the most popular ways to measure value in the stock market. And since prices have come down drastically, so have the PE (price-to-earnings) multiples. The S&P 500 is currently trading at a trailing PE multiple of 17.6x, slightly higher than the long-term average of 16.4x. On the other hand, the PBV (price-to-book value) ratios of S&P 500 stocks have come down to 2.64x compared to the long-term average of 2.83x.
The global (IEFA) (EFAV) benchmark, the MSCI ACWI Index, trades at a trailing PE multiple of 16.8x, lower than its 20-year average of 17.4x. On a PBV (price-to-book value) basis, MSCI ACWI Index trades at a lower multiple of 1.89x compared to the 20-year average of 1.97x. Similarly, the MSCI World Index trades at a trailing PE multiple of 18.5x, lower than the 20-year average of 18.6x. The PBV multiple of the MSCI World Index is 2x compared to the average multiple of 2.08x.
Valuations in the emerging (EEM) (IEMG) markets have also become reasonable. The MSCI Emerging Market Index is now trading at a PE multiple of 11.3x, lower than the average multiple of 12x and at a discount of 23.6% to its recent high. The emerging markets are currently trading at a PBV multiple of 1.27x, a discount of 24% from their recent high.