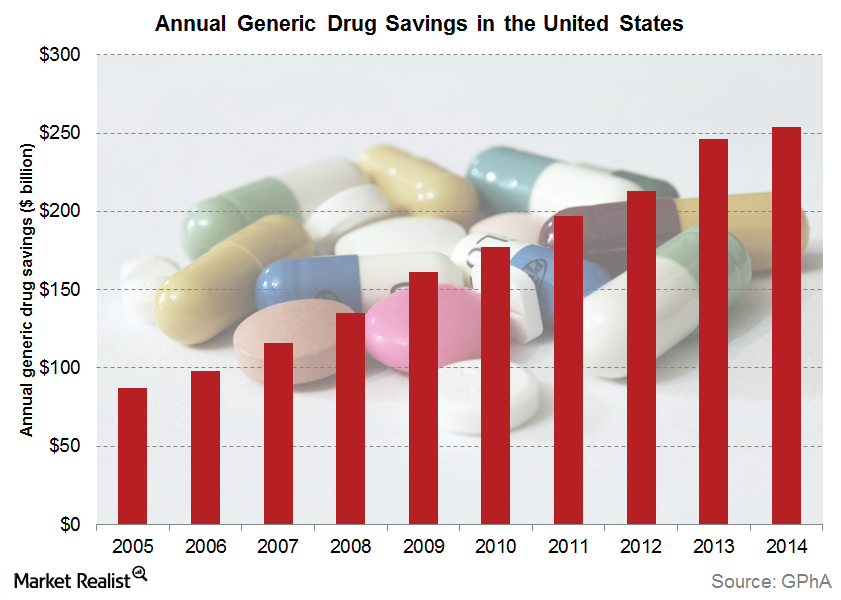 Will Generic Drugs Help Curb Healthcare Costs?
By VanEck

Nov. 20 2020, Updated 3:42 p.m. ET
The federal government is the largest purchaser of generic drugs in America. Medicare, Medicaid, the U.S. Department of Veterans Affairs, and state correctional facilities all face challenges handling the rising cost of drugs. Generally speaking, spending on medicines in the Medicare and Medicaid programs would have nearly doubled without the option of generic drugs. In fact, the Medicare program saved $76.1 billion with generic drugs in 2014 alone. According to the Generic Pharmaceutical Association (GPhA)'s 2015 report, generics were responsible for $254 billion in U.S. health care savings in 2014—$92 billion of which came from generic use by seniors over the age of 65.[1. "Generic Drug Savings in the U.S. Seventh Annual Edition: 2015." Generic Pharmaceutical Association, https://www.gphaonline.org/media/wysiwyg/PDF/GPhA_Savings_Report_2015.pdf]
Article continues below advertisement
There is reason to believe this level of cost savings will continue and potentially grow. As people age, the need for pharmaceuticals generally increases and generic drugs present an affordable alternative to brand name medications. Looking ahead, it is expected that developed and emerging markets alike will continue to experience increased demand for generic pharmaceuticals as they embrace health care reforms and attempt to rein in rising healthcare costs.
Source: Generic Drug Savings in the U.S. Report 2015, Generic Pharmaceutical Association. Historic savings have been revised to include standard data restatements.
Market Realist – As the global population continues to age, government budgets are likely to come under pressure as health and welfare costs climb. Reducing medical costs would be a high priority in all economies, and generic drugs could provide a solution. Generic drugs make up more than 88% of total prescriptions in the United States but only 28% of total drug costs. Their cost-effectiveness is likely to fuel their demand, putting the industry on a firm growth trajectory.
The graph above shows that the US generic drug market (GNRX) contributed to $1.7 trillion in savings from 2005 to 2014. According to a recent report by the Generic Pharmaceutical Association (GPhA), savings reached an all-time high of $254 billion in 2014.
Article continues below advertisement
According to the 2014 Express Scripts "Drug Trend Report," while prices for innovator drugs have almost doubled, prices for generic drugs are almost half what they were in 2008. As the GPhA report noted, generic drug retail prices have now been falling for nearly ten years straight (Source: AARP 2015).
The graph above shows generic drug savings in the United States by age group.
According to the GPhA, estimated Medicaid spending totaled $26.1 billion in 2014. Without $33.5 billion in savings from generics, this figure would have been over $60 billion.
So the generic drug industry plays a crucial role in the sustainability of affordable healthcare (IYH) programs. This role is one of the biggest growth drivers in the generics industry as the world gears up for higher entitlement spending and healthcare expenditure. The outlook for the industry looks extremely bright. Generic drugs could prove to be a very attractive growth opportunity for long-term investors.
If you're looking to invest in the generic drug sector and the pharmaceutical industry, you can consider ETFs like the VanEck Vectors Pharmaceutical ETF (PPH), the VanEck Vectors Generic Drugs ETF (GNRX), the iShares US Pharmaceuticals ETF (IHE), and the Vanguard Healthcare Fund (VHT).
To read more about the generic pharma industry, see Rx for Growth: Why Generic Drugs Are Gaining Traction.