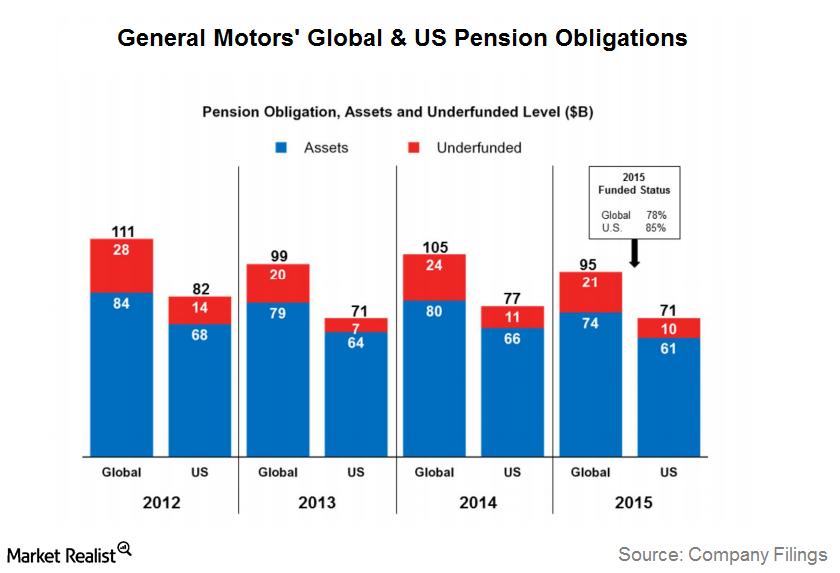 General Motors' Pension Obligations and Bad Phase of Bankruptcy
By Jitendra Parashar

Mar. 22 2016, Updated 6:04 p.m. ET
General Motors' pension plan
General Motors (GM), the largest US automaker, was the first company to be unionized in the auto industry. Since the beginning of 21st century, the company has been struggling to meet its massive pension obligations.
In this article, we'll take a look at GM's current global and US pension obligation statuses. We'll also talk about the company's 2009 bankruptcy filing.
Article continues below advertisement
Current pension obligations
At the end of 2015, General Motors' astounding global pension obligations stood at $95 billion. This was a fall of $9 billion compared to the previous year. However, it was still underfunded by $21 billion, or 21% of the company's total global pension obligations.
Likewise, at the end of 2015, GM's US pension obligations stood at $71 billion, a fall of $5 billion from the previous year. To add to its struggles, the company's US pension also remained underfunded by a massive $10 billion, or 15% of its total US pension obligations. Note that "underfunded" means that General Motors' obligation toward its pension plan was much more than its total assets. If this issue isn't resolved in time, the situation could become precarious for the company.
Going forward in 2016, GM plans to contribute $947 million to its non-US pension plans. According to the company, by mid-2016, it also plans to make a discretionary contribution of $20 billion to its US hourly pension plan. GM expects this contribution to be funded by debt.
GM's trip to bankruptcy court
Burdened by rising debt and massive pension obligations, General Motors took a trip through bankruptcy court in June 2009. The auto industry crisis during that period also took a toll on the already debt-burdened company. In bankruptcy court, companies are able to leave their liabilities behind. Debt and other liabilities are restructured in court.
In July 2009, GM emerged from bankruptcy, with the US government providing liquidity to its predecessor company. The US government sold the last shares of GM in December 2013.
While in bankruptcy, GM reduced its number of brands and cut its costs through union concessions and the pruning of its global operations. The restructuring continues as GM strives to add manufacturing capacity to higher-growth areas and optimize manufacturing in lower-growth areas.
During the 2008–2009 auto industry (FXD) crisis, nearly all mainstream automakers such as Ford Motor Company (F), Fiat Chrysler Automobiles (FCAU), and Toyota Motor (TM) faced financial difficulties due to a sharp fall in global vehicle demand.
Continue to the next article to read about the current leverage condition of General Motors.