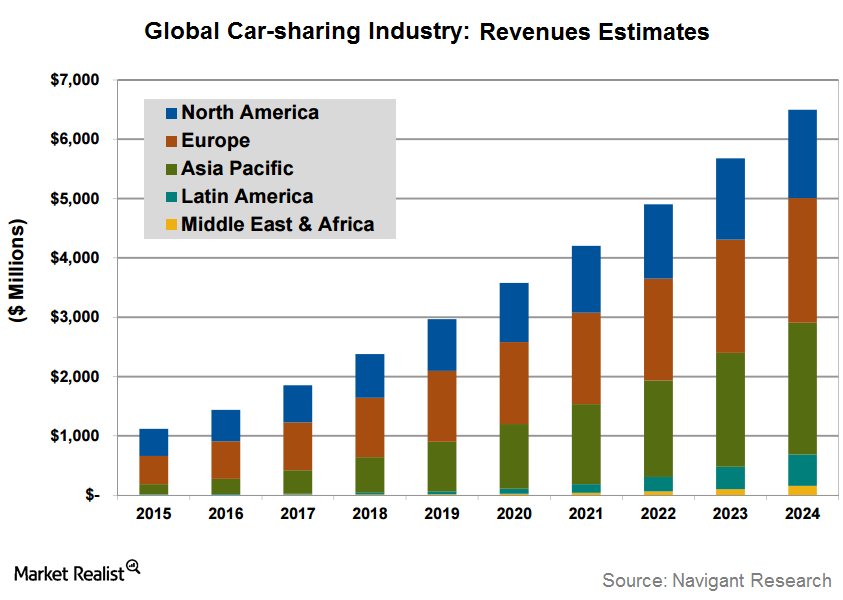 General Motors and the Growing Global Car-Sharing Business
By Jitendra Parashar

Mar. 18 2016, Published 9:50 a.m. ET
Changing dynamics of the auto industry
People and governments around the world are becoming more aware and concerned about the negative impact of global warming. To some extent, it's affecting today's automobile industry (XLY) and could be seen as a good sign for the car-sharing or ride-sharing industry.
Let's take a look at today's car-sharing industry and its potential for growth.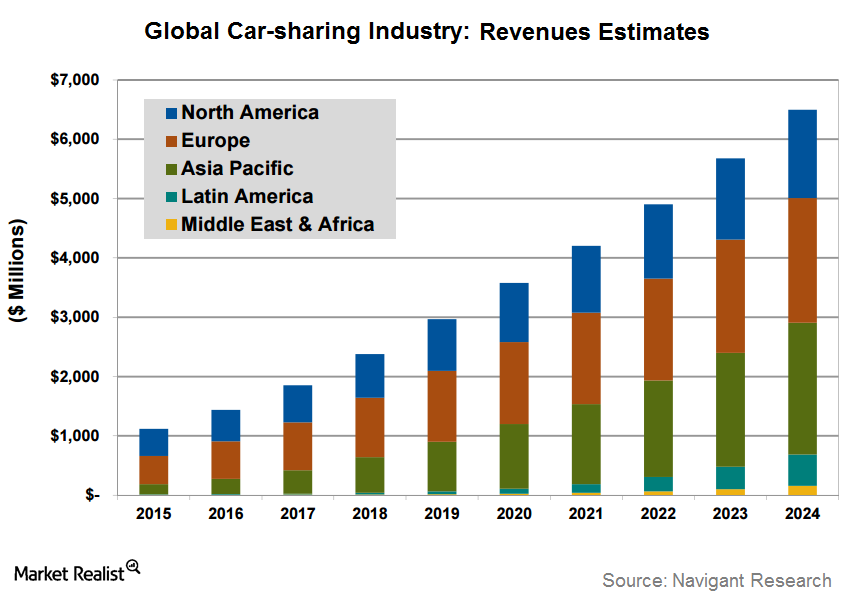 Article continues below advertisement
Car-sharing, now and in the future
Currently, car-sharing is growing at a fast pace. People from developed nations in North America and Europe are increasingly adopting this new way of commuting. They find it more cost-effective and convenient than the traditional way of owning and maintaining a vehicle.
According to a report from Navigant Research, revenue from the global car-sharing business is expected to reach $1.1 billion in 2015. North America and Europe combined were projected to account for nearly 83% of this amount. The report also suggests that global car-sharing revenues are likely to expand to $6.5 billion by 2024.
Key markets for car-sharing business
Although North America and Europe are the key markets for the car-sharing industry, the market share of the Asia-Pacific region is likely to grow at a higher pace going forward, according to data compiled by Navigant Research.
China's car-sharing market is also likely to expand in the coming years. This should help the country address concerns over pollution and heavy traffic congestion. It looks like the car-sharing business has a good growth potential globally. General Motors (GM) is the first mainstream US automaker to enter the car-sharing business, ahead of its direct competitor, Ford Motor Company (F).
It's worth noting that GM, including its joint ventures, regained the largest market share of 14.9% in the Chinese auto market last year. However, global market share of the company is still behind other mainstream automakers, including Toyota (TM) and Volkswagen (VLKAY).
Next, we'll see why General Motors might have chosen to enter the car-sharing business and why it could prove to be a positive step for the company.