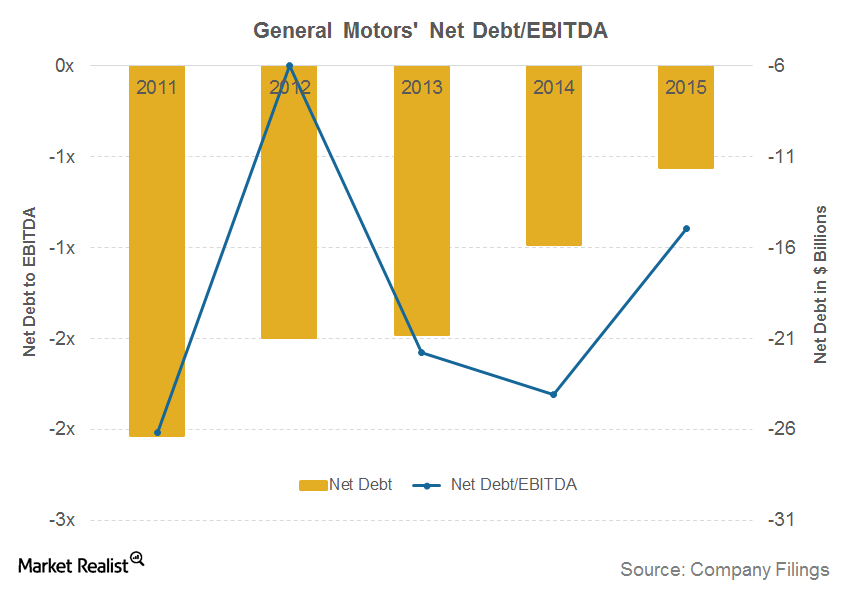 How Does General Motors' Current Leverage Position Look?
By Jitendra Parashar

Mar. 22 2016, Updated 11:04 a.m. ET
Importance of analyzing leverage
Previously in this series, we looked at General Motors' (GM) profitability and related factors. It's also important for an investor to pay attention to a company's leverage position.
High debt levels increase the risk profile of a company, since debt is a contractual obligation that a company must fulfill irrespective of market conditions. In this article, we'll take a look at General Motors' current leverage position.
Article continues below advertisement
General Motors' current leverage position
The auto industry (XLY) is highly capital-intensive in nature. For this reason, auto companies tend to utilize debt extensively. Therefore, it's not always bad for a company to have high leverage. What matters most is a company's ability to pay back its debt and related interest with ease. At the end of 2015, 55.3% of General Motors' capital structure was made up of debt, while 44.7% was made up of equity.
GM's debt was significantly lower than that of its direct competitor Ford Motor Company (F), which had a 70.4% contribution of debt to its total capital structure. Note that among all major automakers, Fiat Chrysler Automobiles (FCAU) has the highest leverage. While higher leverage can magnify earnings, it can also put a squeeze on margins as interest rates rise.
Net debt-to-EBITDA
A company's ability to pay back its debt can generally be understood by looking at its interest coverage ratio and its net debt-to-EBITDA (earnings before interest, tax, depreciation, and amortization) ratio.
Major automakers including GM, Toyota Motor (TM), and Ford have negative net debt in their automotive operations. As a result, GM's net debt-to-EBITDA ratio stood at -0.9x at the end of 2015.
For the same period, GM's interest coverage ratio stood at 11.05x, higher than Ford's 9.89x. Note that interest coverage ratio can be calculated by dividing a company's EBIT (earnings before interest and tax) with its interest expenses.
Continue to the next article to read about General Motors' plans to expand its electric vehicle portfolio.