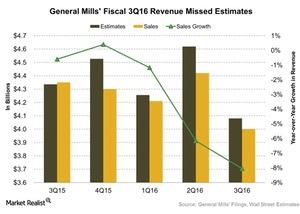 General Mills' Fiscal 3Q16: Green Giant Divestiture Caused Sales Dip
By Sushree Mohanty

Mar. 29 2016, Published 11:48 a.m. ET
Sales fell behind estimates
The Green Giant divestiture, along with continued foreign exchange headwinds, impacted the net sales of General Mills (GIS), as anticipated by the company. The net sales for fiscal 3Q16 came in around $4.0 billion for the quarter, missing analysts' estimates of $4.08 billion by 2%.
Sales declined by 8% compared to fiscal 3Q15 quarter sales of $4.35 billion. Let's see now what hurt the sales this quarter.
Article continues below advertisement
What hurt sales?
Net sales were affected adversely by 4% due to currency headwinds and 5% due to pound volume. Positive sales mix and net price realization had a positive contribution to sales of 1%. The Green Giant divestiture affected volume growth by -4% and net sales growth by -3% in 3Q16.
Management mentioned that high levels of competitive activity in the US Yogurt segment and lower display merchandising for the US Retail segment continues to affect sales growth. The company's continued effort to drive more from the core is leading to improved sales trends across some key US Retail businesses.
What products contributed to 9-month net sales?
General Mills (GIS) earns its revenue through its three segments—the US Retail segment, the International segment, and the Convenience Stores segment. Net sales for the first nine months of fiscal 2016 fell by 5% to $12.64 billion. It included a 1% decline from acquisitions and divestitures.
The US Retail segment, which strongly boosts sales of products such as Totino's hot snacks, gluten-free Cheerios and Cinnamon Toast Crunch cereals, Nature Valley grain snacks, Larabar nutrition bars, Yoplait Greek Whips! Yogurt, and Annie's natural and organic products.
In the Convenience Stores and Foodservice segment, Bugles and Chex Mix salty snacks, Pillsbury frozen mini-bagels, and Yoplait Parfait Pro and Simply Go-Gurt yogurt varieties contributed the most.
International products that contributed the most are Haagen-Dazs ice cream, Nature Valley snacks in Canada, Betty Crocker sweet snacks in the Asia-Pacific region, Fiber One snacks in Mexico, and Old El Paso Mexican products in Europe.
Competitors
General Mills' main competitors include J.M. Smucker (SJM), Bunge (BG), and Flowers Foods (FLO). They recorded net revenues of $1.97 billion, $11.13 billion, and $858 million, respectively, in their last reported quarter.
The Guggenheim S&P 500 Equal Weight Consumer Staples ETF (RHS) and the PowerShares S&P 500 Low Volatility Portfolio ETF (SPLV) invest 2.6% and 1.04%, respectively, of their portfolios in SJM.