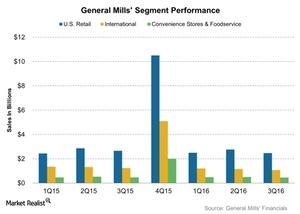 General Mills' 3Q16: How Segments Fed Sales and Operating Profit
By Sushree Mohanty

Mar. 29 2016, Published 11:49 a.m. ET
Which segment contributed the most?
As mentioned in the previous article, General Mills (GIS) earns its revenue through its three segments. The US Retail segment accounts for almost 60% of General Mills' revenue every quarter, contributing 62% this quarter. Let's look more deeply into the segment's performance.
Article continues below advertisement
The US Retail segment
As anticipated, the Green Giant divestiture caused General Mills' (GIS) revenue growth to fall by 5% and pound volume to fall by 6%. The lower pound volume ultimately reduced the net sales growth by 8%.
However, there was a positive contribution of 1% from the net price realization and mix. The segment sales for fiscal 3Q16 came in around $2.48 billion, a fall of 7% YoY (year-over-year).
Convenience Stores segment
The sales in General Mills' Convenience Stores segment fell by 2% YoY owing to unfavorable net price realization—mainly market index pricing on bakery flour. These sales totaled $454 million for 3Q16. The positive contribution was from cereal, yogurt, snacks, and frozen meals.
Article continues below advertisement
International segment
The strong US dollar compared to most currencies has been a headwind lately for US companies with international operations. As expected, it took a toll on General Mills (GIS) in fiscal 3Q16 and caused a 13% decline in sales to $1.07 billion compared to $1.23 billion in 3Q15. The Green Giant divestiture had an adverse effect of 2% on sales.
What about the segments' operating profits?
The US Retail segment's operating profit of $518 million was in line with the same quarter a year ago. The divestiture impact was balanced by benefits from cost savings.
For the Convenience Stores segment, operating profit of $91 million benefited from cost savings initiatives, favorable product mix, and a rise in grain merchandising earnings. It increased by 31% compared to 3Q15.
However, General Mills' (GIS) International segment's operating profit had a hard fall of 35% to $70 million. It was down 24% on a constant-currency basis. It was mainly led by the Green Giant divestiture and currency-driven inflation on imported products in certain markets.
Competitors
General Mills' (GIS) competitors in the industry include Campbell Soup (CPB), ConAgra Foods (CAG), and Mead Johnson Nutrition Company (MJN). These companies reported revenues of $2.2 billion, $3.09 billion, and $967 million, respectively, for their last reported quarter.
The Guggenheim S&P 500 Equal Weight Consumer Staples ETF (RHS) and the First Trust Capital Strength ETF (FTCS) invest 2.3% and 2.01%, respectively, of their portfolios in MJN.