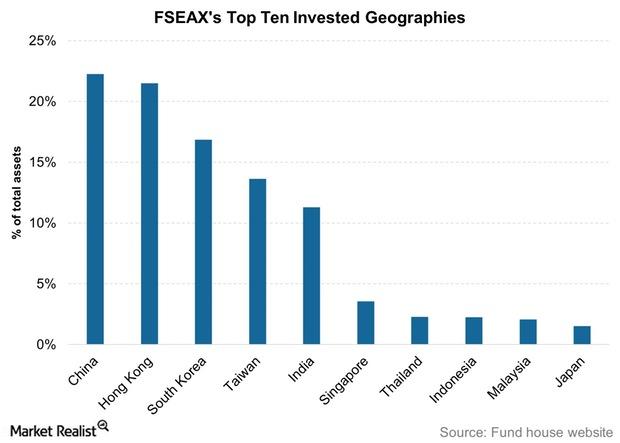 Fundamental Facts about FSEAX
By David Ashworth

Mar. 8 2016, Updated 8:08 a.m. ET
Fidelity Emerging Asia Fund
The Fidelity Emerging Asia Fund (FSEAX) aims to invest 80% of its net assets in "securities of Asian emerging market issuers and other investments that are tied economically to Asian emerging markets." According to fund literature, Asian countries with emerging markets include Hong Kong, India, Indonesia, South Korea, Malaysia, the Philippines, China, Singapore, Taiwan, and Thailand. The fund is managed by Colin Chickles.
The fund manager uses a combination of bottom-up and top-down research by applying fundamental analysis on each issuer's financial condition and industry position, as well as market and economic conditions, while constructing the portfolio.
Article continues below advertisement
Portfolio composition
As stated in the fund literature, financials were the single-largest sectoral holding of the fund and formed 30.8% of the portfolio as of January 2016. The information technology and consumer discretionary sectors, in that order, were second and third. Compared to the MSCI AC Asia ex Japan Index, the fund is overweight in the consumer discretionary, utilities, and energy sectors. On the other hand, it's underweight in the industrials, telecom services, and healthcare sectors. FSEAX's allocation to other sectors is broadly in-line with the allocation of its benchmark.
China is the fund's biggest invested geography, making up over one-fifth of its assets. Hong Kong follows closely, making up 21.5% of the fund as of January 2016. Stocks from South Korea, Taiwan, and India round off its top five invested geographies.
Compared to the above-mentioned index, the fund is overweight in Chinese and Indian equities while being underweight in South Korean, Taiwanese, Singaporean, Malaysian, and Indonesian equities. Unlike most other funds in this review, FSEAX isn't invested in Australian equities and has a very small exposure to Japanese stocks even though the benchmark doesn't.
Alibaba Group Holding (BABA), Shinhan Financial Group Company (SHG), H shares of China Telecommunications (CHA), ICICI Bank (IBN), and 58.com (WUBA) were among the fund's 225 holdings as of December's end 2015. As of February 2016, the fund was managing assets worth $847.9 million.
Fee and minimums
The Fidelity Emerging Asia Fund has existed since April 1993 and has an expense ratio of 1.1%. You require a minimum of $2,500 to invest in this fund via Class A shares. The fund does not charge any sales charge. A redemption fee of 1.5% of the amount redeemed is levied if investments are redeemed within 90 days.
In the next article, we'll look at some of the key metrics of the fund's performance in the one-year period ended February 2016.