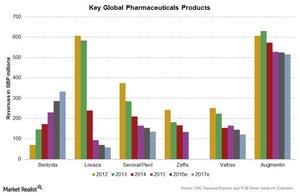 Other Franchises of GlaxoSmithKline's Global Pharmaceuticals Business
By Mike Benson

Updated
Other franchises of GlaxoSmithKline's global pharmaceuticals subsegment
As discussed earlier, the Global pharmaceuticals business of GlaxoSmithKline (GSK) includes various products including respiratory, cardiovascular, metabolic and urology, immuno-inflammation, and established products. As we've already covered the respiratory and cardiovascular, metabolic, and urology franchises, let's look at the remaining franchises.
Article continues below advertisement
Immuno-inflammation franchise
The revenues from GSK's immuno-inflammation franchise increased by 16% at constant exchange rates to 263 million pounds, or $366.2 million, in 2015. The growth was mainly driven by the new drug Benlysta, the revenues for which increased by 25% during 2015. Over 90% of revenues for Benlysta are reported from the sales in the US markets.
Established products franchise
Various products in the established products franchise are losing their market share to generic competition and reported a revenue fall of 15% at constant exchange rates during 2015. US market sales declined by 30% at constant exchange rates, mainly due to a 64% decline in Lovaza sales. In European markets, sales declined by 11% due to increased generic competition as well as constraints in the supply chain. Meanwhile, international markets reported a decline of 8% at constant exchange rates, following lower sales of Seroxal/Paxil and Zeffix, partially offset by increased sales of Valtrex.
Other products
Other pharmaceuticals franchise include few key products like Augmentin, Relenza, dermatology products, and rare disease products. Revenues for this franchise declined by 4% at constant exchange rates during 2015, following lower sales for Augmentin and dermatology sales due to supply constraints, and rare disease products due to generic competition from Mepron in US markets, partially offset by the strong performance of Relenza in the US markets.
In order to divest risk, investors can consider the VanEck Vectors Pharmaceutical ETF (PPH), which has 5.5% of its investments in GlaxoSmithKline. PPH has 8.2% in Johnson & Johnson (JNJ), 6.9% in Novartis (NVS), and 5.4% in Pfizer (PFE).