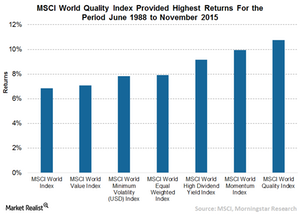 Why Investors Should Focus on High Quality Growth Companies
By Heidi Richardson

Mar. 23 2016, Published 2:11 p.m. ET
Focus on high quality companies with growth – or income – potential
As volatility increases and returns are harder to come by, investors should consider looking to high quality companies, which may be better positioned in this difficult environment, as well as dividend growers, which potentially may offer steady income. When we say "high quality" companies, we are referring to companies characterized by high profitability, steady earnings, and low leverage. This may seem obvious, but we are looking for financially healthy companies that can weather the markets and volatility. Additionally, exposure to companies that have the potential to sustainably increase dividends over time may be an opportunity to target steady growth – as well as income that can help provide some buffer from volatility.
Article continues below advertisement
Market Realist – Quality companies could deliver stable returns in volatile times
As the markets (IVV) (EFA) continue to be riddled by various disturbances, discerning investors can avoid being adversely impacted by focusing on high-quality and long-duration stocks. This is because investing in high-quality stocks is the best way to generate stable and higher returns as shown in the chart below. Quality companies usually have great management and they often develop a sustainable competitive advantage over their competitors. They also tend to have good products that continue to make a mark on the company's top line for the foreseeable future.
A portfolio with a focus on quality companies is likely to have lower volatility and could offer stable returns compared to a broader index. In the last one year, the S&P 500 declined by 1.6% compared to a gain of 2.6% for the iShares MSCI USA Quality Factor ETF (QUAL), which tracks the MSCI USA Sector Neutral Quality Index. According to MSCI, "the index aims to capture the performance of securities that exhibit stronger quality characteristics relative to their peers within the same GICS (Global Industry Classification Standard) sector by identifying stocks with high quality scores based on three main fundamental variables: high return on equity, low leverage and low earnings variability."