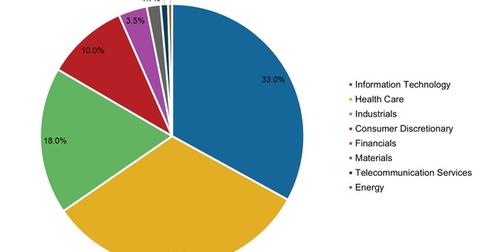 Fast Facts about the Vanguard Capital Opportunity Fund
By David Ashworth

Updated
Vanguard Capital Opportunity Fund overview
The Vanguard Capital Opportunity Fund invests primarily in US equities, focusing on companies that may attain rapid earnings growth. Although the fund can invest across market caps, it may focus on the mid-cap segment. The fund is closed to new investors. The fund is managed by Theo A. Kolokotrones, Joel P. Fried, Alfred W. Mordecai, M. Mohsin Ansari, and James M. Marchetti.
Fund managers look at mid-cap growth companies which are expected to outperform the market over three to five years. Fund literature states that the fund may be volatile in the short term, which is expected due to its mid-cap focus.
Article continues below advertisement
Portfolio composition
According to information provided by the fund house, information technology was the largest sectoral holding of the fund and formed one-third of the portfolio as of February 2016. Healthcare followed closely and formed 32.4% of the assets. Industrials was a distant third, and consumer discretionary was the only other sector with its share of the portfolio reading in double digits. The fund is not invested in the consumer staples and utilities sectors.
Compared to the Russell Midcap Growth Index (as of December 2015), the fund is overweight in the healthcare, industrials, and information technology sectors, while being underweight in all others.
Biogen (BIIB), Eli Lilly (LLY), BioMarin Pharmaceutical (BMRN), Southwest Airlines (LUV), and FedEx (FDX) were among the fund's 140 holdings as of the end of February. As of February 2016, the fund was managing assets worth $12.4 billion.
Fee and minimums
The Vanguard Capital Opportunity Fund – Investor Shares (VHCOX) has been in operation since August 1995 and has an expense ratio of 0.45%. Before the fund was closed to new investors, you required a minimum of $3,000 to invest in this fund via Investor shares, and the minimum subsequent investment was $1. The fund does not levy either a sales charge or a redemption fee.
In the next article, we'll look at some of the key metrics of the fund's performance in the one-year period ended March 18, 2016.