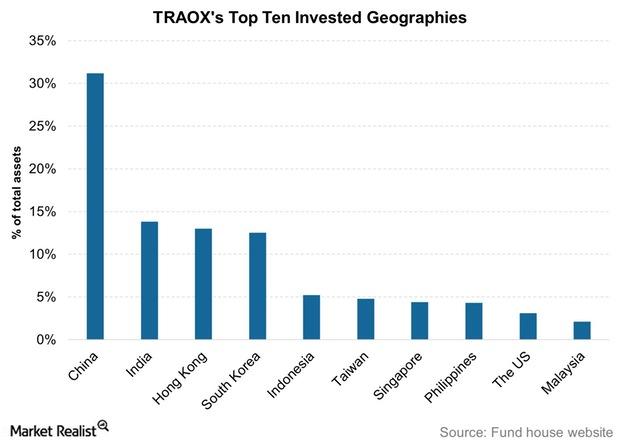 Fast Facts about TRAOX
By David Ashworth

Mar. 13 2016, Updated 10:05 a.m. ET
T. Rowe Price Asia Opportunities Fund
The T. Rowe Price Asia Opportunities Fund (TRAOX) aims to grow capital by investing in "stocks issued by companies that are located in, or that have economic ties to, Asia (excluding Japan)." Fund literature states that the primary emphasis will be on China, Hong Kong, India, Indonesia, Malaysia, the Philippines, Singapore, South Korea, Taiwan, and Thailand, while other countries will include Pakistan, Sri Lanka, and Vietnam. The fund is managed by Eric C. Moffett.
Though the fund manager takes account of the outlook for countries and sectors, bottom-up stock selection remains the core method of picking securities. Stock selection drives country selection. The fund does not have a growth or value bias.
Article continues below advertisement
Portfolio composition
As stated in the fund's literature, financials were the single largest sectoral holding of the fund and formed 35.3% of its portfolio as of January 2016. The information technology and consumer staples sectors, in that order, were a distant second and third.
Stocks from China formed 31.2% of the fund's January assets. China was TRAOX's largest invested geography. Stocks from India followed, making up 13.8% of the fund's assets. Hong Kong, South Korea, and Indonesia rounded off the top five invested geographies.
China Life Insurance (LFC), POSCO (PKX), SK Telecom Company (SKM), Infosys (INFY), and JD.com (JD), were among the fund's 52 holdings as of February's end 2016. As of January, the fund was managing assets worth $25.2 million.
Fee and minimums
TRAOX has existed since May 2014, and it has an expense ratio of 1.2%. You require a minimum of $2,500 to invest in this fund, and the minimum additional investment is $100. The fund charges a redemption fee of 2% of the amount redeemed on shares sold within 90 days.
In the next article, we'll look at some of the key metrics of the fund's performance in the one-year period ended February 2016.