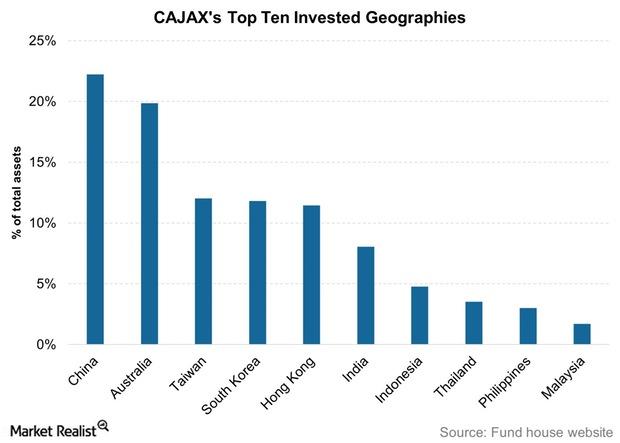 Fast Facts about CAJAX
By David Ashworth

Mar. 7 2016, Updated 4:56 p.m. ET
Columbia Asia Pacific ex-Japan Fund
The Columbia Asia Pacific ex-Japan Fund (CAJAX) aims to invest 80% of its net assets in the securities of companies located in the Asia-Pacific region, excluding Japan. For the fund house, countries in the Asia-Pacific region include Australia, China, Hong Kong, India, Indonesia, Malaysia, New Zealand, Pakistan, the Philippines, Singapore, South Korea, Taiwan, Thailand, and Vietnam. The fund is managed by Vanessa Donegan and George Gosden.
The fund can invest across market capitalizations and can favor a particular sector over others from time to time. Fund managers can invest in derivatives and complex securities both for investment and as a substitute for a security or an index.
Article continues below advertisement
Portfolio composition
As stated in the fund literature, financials were the single largest sectoral holding of the fund and formed 38% of the portfolio as of January 2016. Information technology and materials, in that order, were a distant second and third. Compared to the MSCI AC Asia Pacific ex Japan Index, the fund is overweight in the financials, information technology, materials, and healthcare sectors. On the other hand, it is underweight in the consumer discretionary, consumer staples, utilities, and energy sectors.
China was the largest invested geography in January, making up over one-fifth of the fund's assets. Australia followed closely, making up 19.9% of the portfolio. Stocks from Taiwan, South Korea, and Hong Kong rounded off the top five invested geographies. Compared to the index mentioned above, the fund is overweight in Taiwanese, Hong Kong, Thai, Philippine, and Indonesian equities, while being underweight in Australian, South Korean, and Malaysian equities.
Tencent Holdings (TCEHY), Westpac Banking (WBK), Lenovo Group (LNVGF), Korea Electric Power (KEP), and CNOOC (CEO), were among the fund's 98 holdings as of January's end. As of January 2016, the fund was managing assets worth $43 million.
Fee and minimums
CAJAX has existed since September 2010 and has an expense ratio of 1.5%. You require a minimum of $2,000 to invest in this fund via Class A shares, and it can charge a maximum sales charge of 5.8% of the offering price. There is a minimum limit for additional investment.
In the next article, we'll look at some of the key metrics of the fund's performance in the one-year period ended February 2016.