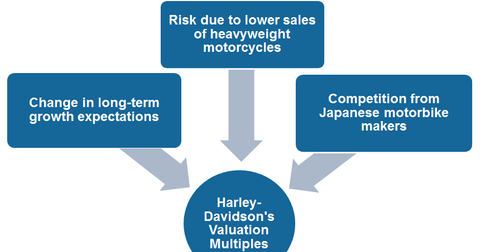 What Factors Could Affect Harley-Davidson's Valuation Multiples?
By Jitendra Parashar

Updated
Factors affecting Harley-Davidson's valuation multiples
In our last article, we discussed the various valuation methods that investors can use to make an investment decision about Harley-Davidson (HOG) stock. It's also important for investors to understand that valuation multiples depend on investors' risk perceptions as well as growth prospects in the industry. We'll talk about these factors in this final article of the series.
Article continues below advertisement
Change in long-term growth expectations
As one of the most important value drivers, growth can affect valuation multiples in many possible ways. As we know, Harley-Davidson has a stable business model with a proven track record of positive cash flows. The company doesn't require a high amount of capital reinvestment for future earnings growth. In addition, the company's early entry in the electric motorcycle segment in the coming years also can be seen as a positive growth driver.
However, long-term growth expectations for Harley may change based on the market conditions and demand for heavyweight motorcycles. Therefore, any revision by investors and analysts in the company's long-term growth expectations is likely to drive Harley-Davidson's valuation multiples going forward.
Article continues below advertisement
Risk factors
In recent years, Harley-Davidson has begun manufacturing lightweight street motorcycles to expand its presence in emerging markets like India, China, and Brazil. This also resulted in an increased share of such lightweight motorcycles in overall volume. At the same time, the sales of touring and cruiser motorbikes fell.
If the company doesn't pay attention and take action to improve the falling sales volume of heavyweight motorcycles, it could threaten its profitability and drive valuation multiples lower. This is because heavyweight motorcycles typically yield a higher profit for the company than its lightweight motorcycles.
Therefore, investors can keep an eye on how Harley is trying to address this issue while making a decision to invest in the company's stock.
Note that Fiat Chrysler Automobiles (FCAU) recently mentioned in its 4Q15 earnings report that it considers 2015–2016 to be the peak year for US auto demand. This has further boosted debate about whether US auto demand is at its peak. This may impact mass-targeted automakers (XLY) such as General Motors (GM) and Ford (F). However, auto companies like Harley-Davidson and Ferrari (RACE) should not be affected by any possible downturn in US auto demand, as both these companies target a niche of customers.