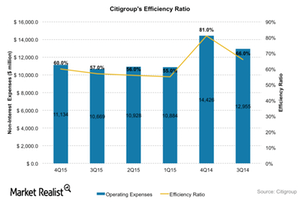 What to Expect from Citigroup's Expenses and Credit in 1Q16
Expenses guidance for first quarter
Citigroup's (C) CFO John Gerspach expects core expenses in the company's Citicorp business to be flat in the first quarter of 2016 over 4Q15. Further, he mentions a repositioning a reserve of $400 million during the quarter, which is higher than what was expected by analysts. This reserve would be used to resize the company's capacity and infrastructure.
Excluding these expenses, core expenses are expected to be flat. Citigroup aims to drive cost-related efficiencies in the consumer and the institutional clients segments as well. It aims to operate at an efficiency ratio of 50% in the near to mid term. For this, it plans to adopt a strategy of branch closures in the US and rationalization globally.
Article continues below advertisement
Wall Street (SPY) analysts keep a close eye on efficiency ratios of banks. An efficiency ratio is a measure of non-interest expenses as a percent of net revenue—it shows how revenues fuel a bank's operating expenses. A lower percentage is better because it means lower expenses compared to revenues. Citigroup's efficiency ratio was 60% in 4Q15, much lower than the 80% in 4Q14.
Reserves and credit trends
Gerspach also highlighted the impact of falling oil prices on energy loans. The corporate bank is expected to have a cost of credit of $350 million in 1Q16, higher than the $250 million in the fourth quarter, most of which was related to energy loans. The company is expected to have a funded reserve level of 4.5% against energy by the end of the quarter. But apart from the energy-related lending, corporate and consumer credit is showing favorable trends.
Citigroup has a weight of 0.35% in the Financial Select Sector SPDR ETF (XLF). By comparison, Wells Fargo (WFC), J.P. Morgan (JPM), and Bank of America (BAC) have weights of ~8.7%, ~8.1%, and 5.8%, respectively.