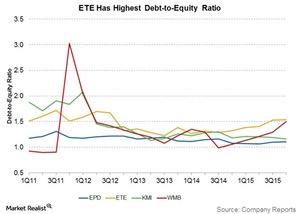 ETE, EPD, WMB, and KMI's Debt-to-Equity Ratios: Key for Investors
By Rekha Khandelwal, CFA

Mar. 17 2016, Updated 10:06 a.m. ET
ETE's debt-to-equity ratio
Energy Transfer Equity (ETE) had total debt of $37 billion at the end of 2015 and cash of $606 million. Total equity was $23.6 billion, and its net debt-to-equity ratio was 1.5x. The company's net debt-to-equity ratio moved in the range of 1.7x–1.2x in the last 20 quarters.
Energy Transfer Equity's net debt increased by $6.6 billion in 2015 over 2014, primarily due to the issuance of senior notes at the parent and the subsidiary level. Energy Transfer Partners (ETP), ETE's MLP subsidiary, raised $1.4 billion from the issuance of common units during 2015. ETE's other subsidiary issued $2.5 billion in units during the year. ETE paid $1.1 billion to repurchase common units during 2015.
Article continues below advertisement
The above graph shows debt-to-equity ratios of Enterprise Products Partners (EPD), Williams Companies (WMB), Energy Transfer Equity (ETE), and Kinder Morgan (KMI) over the last five years. None of the selected companies' ratio is currently extraordinarily high to be a matter of great concern in itself.
EPD's and KMI's ratios
Enterprise Products' ratio had been most stable and on the lower side compared to peers. This likely indicates the financial discipline of the company, which has also helped it face the challenging environment better compared to peers. EPD forms 10.5% of the Alerian MLP ETF (AMLP), an ETF of top energy MLPs.
Kinder Morgan's debt-to-equity is on a slight downward trend since last few quarters—a positive sign for the company. The company is taking several steps, including dividend and capex cuts to reduce its debt levels.
Let's now take a look at another important leverage metric commonly used for midstream companies, the debt-to-EBITDA (earnings before interest, tax, depreciation, and amortization) ratio.