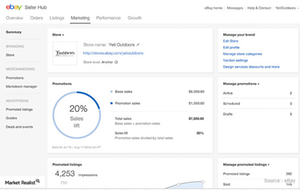 eBay Will Recommend Its Seller Hub to Users
By Parker Thomas

Mar. 10 2016, Updated 8:07 a.m. ET
Seller Hub
eBay (EBAY) has come up with a new analytical tool called the Seller Hub to provide its sellers with a dashboard of activities carried out on its web portal. The company expects to roll out the Seller Hub this year. Some sellers on eBay.com are already using this tool, as the company is actively seeking feedback for further improvement.
The tool will incorporate all functions that professional sellers use to execute their business operations, from listing to managing to sales and marketing. The objective is to provide sellers with a centralized overview of order activities, sales information, marketing, and promotional activities.
Article continues below advertisement
Recommendations to sellers
eBay has incorporated some elements of Google's (GOOG) Analytics, such as page views, click-through rate, and conversion rate. These are primarily used by marketers to monitor buyers' activities toward their listed products within a certain period. The company has archived records up to January 2013, which sellers can leverage to compare their current sales with their past performances.
The tool can provide recommendations to its sellers on pricing and advertising. For instance, the tool can suggest that a seller reduce the price of a certain product if it goes above the average selling price for similar products sold by other vendors.
Moreover, the Seller Hub can also measure the number of times the product was displayed or viewed within a certain period. Based on that, the tool can suggest that the seller opt for the right advertisement, such as Promoted Listing, for better visibility.
Internet companies such as Facebook (FB) and Google have already been using this technique to provide targeted ads to their users. Similarly, Amazon's (AMZN) Selling Coach provides personalized recommendations to sellers for maximizing their effectiveness.