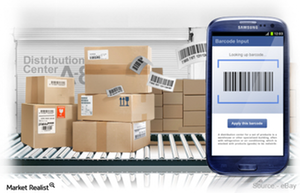 How eBay Will Execute Its Structured Data Initiative
By Parker Thomas

Mar. 10 2016, Updated 10:07 a.m. ET
Universal Product Code
eBay's (EBAY) initiative toward structured data—to make the listing process standardized—will lead the company to the use the barcode technology. The Universal Product Code (or UPC), or the machine-readable code, will enable eBay to manage the 6 billion products listed on its Marketplace platform.
Currently, merchants need to add the details of each item on a manual basis, which could create discrepancies in data stored in the company's database. As a result, it's difficult for buyers or sellers to filter the records using specific keywords.
Article continues below advertisement
Data consistency and integrity
To overcome this situation, the company will make use of barcode technology to fill in product specifications. The technology will allow merchants to use smartphone cameras to scan UPC codes while listing their items to Marketplace.
As a result, the item's specifications such as name, category, and price will be entered without any human intervention. Software companies such as IBM (IBM), Oracle (ORCL), and Microsoft (MSFT) have started to depend on big-data tools for the purpose of structuring their data.
The structured data initiative started in June 2015 with auto parts and accessories, one of the eBay's fastest-growing categories. It makes sense for eBay to use UPCs to fill in basic information about products, because 80% of items sold on eBay's portal are new, according to the company's most recent quarterly report. The objective is to maintain data consistency and integrity by making the listing process standardized. Moreover,the initiative will eventually cover almost every item listed on the site.
Amazon (AMZN) constitutes 9.1% of the PowerShares NASDAQ Internet ETF (PNQI).