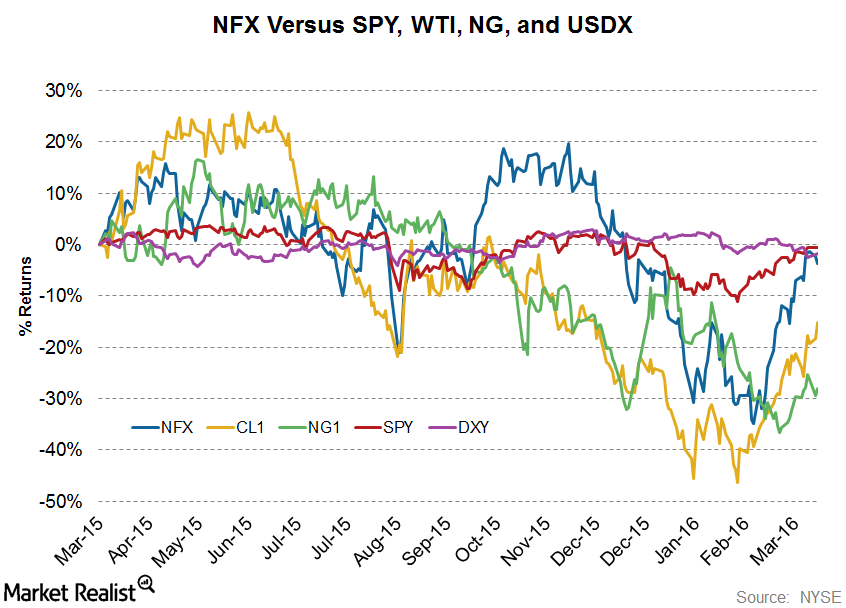 What Drove Newfield Exploration's Recent Stock Performance?
Newfield Exploration's 2015 stock performance
In this final part of our series on Newfield Exploration (NFX), we'll compare the company's stock movements to movements in the broader market, to crude oil and natural gas prices, and to the USDX (US dollar index).
As we saw in Part 1 of this series, NFX stock has fallen by 7.5% year-over-year. Lately, the stock has been on an uptrend, mirroring crude oil price movements.
In comparison, Marathon Oil (MRO), Hess (HES), and Apache (APA) have seen their stocks fall 61%, 25%, and 20%, respectively. All these companies make up 0.3% of the iShares Core S&P 500 ETF (IVV).
Article continues below advertisement
The correlation coefficient between NFX's stock price and crude oil prices (USO) from March 2015 to the present is ~0.6. This indicates a strong positive correlation between the two. In the same period, the correlation coefficient between NFX and natural gas prices is ~0.2. This also indicates a positive but substantially lower correlation.
From the above graph, we can see that NFX stock has overperformed both WTI and natural gas on a year-over-year basis.
When compared to the broader market S&P 500 ETF (SPY), MRO has underperformed SPY, which has returned -1.2% year-over-year. USDX has returned -1.3% since last year.