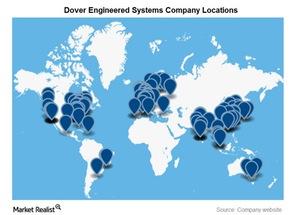 Dover Engineered Systems: From Food Safety to Garbage
By Shannon Black

Mar. 30 2016, Updated 7:05 p.m. ET
Dover Engineered Systems: Printing & Identification
Dover's Engineered Systems contributed 30.4%, 30.8%, and 33.7% to total sales in 2013, 2014, and 2015, respectively. The segment is classified into two parts: Printing & Identification and Industrial Products. Under Printing & Identification, the company provides printers and specialized ink for labeling requirements in the fast-moving consumer goods industry (IYK).
These requirements are regulated by the FDA, and consumers rely on them as a matter of safety. Labeling requirements include shelf life dating, as well as providing such inputs as nutritional value, ingredients, and batch numbers. Companies in this business pursue the printer cartridge sales model, with the specialized ink constituting a recurring revenue stream after a printer is sold.
Dover Corporation (DOV) makes more than half of its sales in this business through its recurring specialized ink sales. Dover's major competitors in this business are the Videojet brand of Danaher Corporation (DHR) and Domino Printing of the Japan-based Brother Industries.
Article continues below advertisement
Making a mark
Because firms in the FMCG industry (XLP) look to meet these requirements at minimal cost, they demand energy-efficient systems with high line speeds and minimal human interventions. Dover's Markem-Imaje business has achieved significant traction in this regard. The SmartLase C350 coders have a robust build and do not require compressed air, achieving significant energy and operating efficiency for its customers.
Dover Engineered Systems: Industrial Products
The Dover Engineered Systems' Industrial Products unit supplies automation components such as robotic arms, grippers, and pick and place units that serve several end markets, as well as garbage trucks and equipment for waste collection and compaction. Dover's Heil brand is North America's largest, with the widest variety of garbage trucks that the company sells to municipal customers and independent waste haulers. Major competitors of the Industrial Products unit are Oshkosh Corporation (OSK), Weiss Gmbh of Siemens AG (SIEGY), and Challenger Lifts.
As seen in the video above, the recently launched fully automated loader now requires only one worker per truck—the driver. Solutions designed prior to the introduction of the automated loader required an additional worker to pick up the containers.