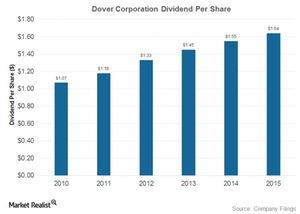 Dover Corporation's 60-Year Streak of Paying Dividends
A robust dividend record
Among the good things in life, including driving to work without hitting any stoplights, a stock with a 60-year streak of dividend increases certainly makes the cut. Founded in 1955, Dover Corporation (DOV) became just the second active company with 60 straight years of dividend hikes. This record is second only to California-based water and electricity provider American States Water's (AWR) 61-year record.
Genuine Parts Company (GPC) and Northwest Natural Gas (NWN), respective players in the automotive (FSAVX) and utilities (XLU) markets, trail close behind with 59 years in this exclusive club. Parker-Hannifin (PH) is next with a 58-year record.
Article continues below advertisement
Dividends come with hidden signals 
Dividend increases are often seen as important signals in the investment world, as firms normally tie their payout ratios to the growth rates of long-term earnings. In mature companies, dividend increases are interpreted as an indication of good times ahead and that the company's management is inclined to share its success with the shareholders. On the other hand, decreases in dividend payments—or even missing dividend payments—could highlight mounting problems that inhibit a company's ability to maintain its current dividend returns.
Because growth companies generally don't give out dividends, initiating dividends can be perceived negatively as it could mean the company has run out of profitable avenues in which to invest its money.
Understanding Dover Corporation's dividend moves
Dover Corporation (DOV) utilizes its earnings by distributing a portion as returns to shareholders through share repurchases and dividends. It retains the rest for capital investments and acquisitions. As seen in the above graph, the company's dividend per share increased from $1.07 in 2009 to $1.64 in 2015. The company also repurchased 8.2 million shares at an average cost of $72.94 per share in 2015.
The payout ratio (or dividends over earnings) was ~43.4% in 2015 and has ranged between 20%–50% in the last decade. Investors must remember that a very high dividend payout ratio could stunt a company's ability to keep increasing dividends in the future. Companies can only return what they earn, and a bad year could easily depress investors' dividend returns.