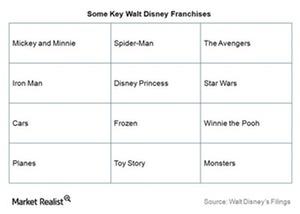 How Is Disney Strengthening Its Brands?
Disney's franchise focused strategy
In early February 2016, the Walt Disney Company's ESPN (DIS) entered into an agreement with Tencent Holdings (TCEHY) in China (FXI). Under the terms of the agreement, Disney's ESPN's sports content will be distributed across Tencent's digital distribution platform in China.
According to Disney, the agreement "will help ESPN establish its most significant digital presence ever in China" as Tencent's digital sports portal, QQSports, will have an ESPN section on its website. Disney uses a franchise-focused strategy that enables it to monetize its IP (intellectual properties) across its segments for a long time. The company's 11 franchises have had retail sales of more than $1 billion in the prior two fiscal years.
Article continues below advertisement
How is Disney strengthening its brands?
Disney is undertaking many strategic initiatives to boost the presence of its brands across multiple platforms and to expand the reach of its brands. Besides the deal with Tencent in China, Disney also launched DisneyLife, which is Disney's OTT (over-the-top) service in China, in partnership with Alibaba (BABA).
Disney has also produced the Marvel series exclusively for Netflix (NFLX), resulting in broadening the reach of the Marvel brand. Disney has also stated that in fiscal 1Q16, the company's Star Wars and Avengers were major growth drivers for the company's Consumer Products & Interactive business. The company is also investing in Vice Media, a company that appeals to Millennials, who fall in the 18–34 age group.
Disney makes up 0.85% of the SPDR S&P 500 ETF (SPY). For an investor interested in the information technology sector, SPY holds 3.9% of the sector.
In the next part of this series, we will look at Disney's dividend yield and share repurchase program.